A Look Inside CCSU'S Coronavirus Tracking System
"If I said to you back in March we had someone that tested positive [for coronavirus], we would've said 'let's get in our car, we're getting out of here!' because we didn't even know or understand the virus back then," Chief Operations Officer Sal Cintorino said. Six months later, Connecticut is seeing quite the opposite.
Already a month into the fall semester, Central Connecticut has been able to maintain an environment with a limited number of confirmed positive coronavirus cases. Despite this, the university has one of the highest rates of new cases being reported in the state, peaking at 3.44 percent and currently resting at 2.31 percent.
These numbers are monitored daily using a survey and testing through Griffin Health.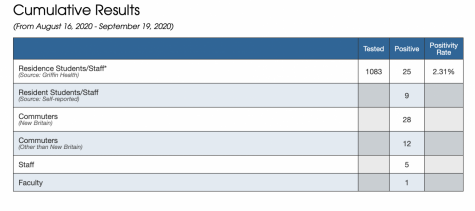 The daily symptom survey contains two main questions based on one's exposure to the disease and their symptoms. If one is in the "Green," they may visit campus. Those who are placed in the "Yellow" or "Red" will be monitored to decide if they will resume normal activities or be placed into quarantine or isolation.
Chief Information Officer George Claffey has become a familiar name for many as he emails the symptom survey to the campus community. Like Cintorino, Claffey is also a part of the university's task force team for coronavirus.
"The first part of that is the survey I send out every morning," Claffey said. "The goal here is to have people do that sort of 'self-check' before they get into their cars or even walk out of their dorms. And if they are not feeling good, we're not bringing them into that campus community."
Claffey explained that the symptom tracking is meant to be the first in one of many "layers" of preventing the spread of COVID-19 on campus. Anyone who resides or intends to visit the premise, including university employees or visitors, must complete the survey prior to entry.
CSCU has also announced they will increase testing on residential college students from 5-10 percent to 25 percent of residential students on a weekly basis. This consist of randomly testing 25 percent of the resident students, residence hall staff and in-season student athletes at CCSU.
Along with that, Sodexo employees receive separate testing on a weekly basis from Griffin Health.
"It's not always perfect but the goal is to have that occur before you even enter campus," Claffey said.
"A lot of what our practice is is to do this in layers. So we want to have multiple layers and when we have multiple layers, you know, we're helping to ensure that if something does breakdown there's hopefully another layer that helped keep it up," he continued.
In the CCSU Fall 2020 Reopening Blueprint, it is noted that those who fail to comply with the university's health and safety protocols will be reprimanded based on the actions.
Cintorino advises those to call the COVID Hotline, (860) 832-3200, to report any compliance issues. The Blueprint states, "a call to the COVID hotline will trigger the immediate deployment of designated personnel who will investigate the matter, identify the status of the noncompliant individual and file a report." All student reports will be investigated by the Student Rights and Responsibilities Office.
He emphasized that now more than ever people need to be socially responsible and be an ambassador when it comes to wearing a mask.
"The only places that are permissible [without a mask] are over in Memorial Hall and the Student Center's Devil's Den area. And so, for some people they're like 'well I'm in that area,' and it is 'that area' but wouldn't it be better for you to put your mask back on once you finish eating, especially at this point in time?" Cintorino expressed. "For someone to say 'oh c'mon, what's the big deal?' The 'big deal' is I don't want to get sick and you don't want to get sick."
According to Claffey, CCSU has one of the largest contact tracing team of any of the public schools in Connecticut. In addition to the staff working for the university health services that are in the quarantine and isolation dorms, there are contact tracers, a 24/7 COVID-19 hotline as well as seven nurses that are providing nurse-supervision support. The university also remains in contact with New Britain's and Connecticut's Department of Public Health.
"We not only talk to them about what's going on in our campus but also about what's going on in New Britain public about our commuter students that live in the area," Claffey stated. "We're looking at every CCSU constituent: every staff, students, faculty, regardless of where they live. We're trying to talk to them and engage with them to see how they're doing. I think that's part of why we're being so successful because we're building that relationship and showing people this is a community that cares."
Cintorino shared the university has also taken other steps in preventing the spread of COVID-19 on campus. These new additions include social distancing measures, required face masks and coverings, ultraviolet lighting in every classroom, new HVAC systems with ultraviolet cleaning systems to purifies circulating air and multiple hand sanitization stations.
"All those things were so that we can create the best possible safe environment for everybody that's on the campus," Cintorino said.