CCSU Art Reception Brings Together Art Enthusiasts
Over two decades of work from a  Central Connecticut State University art professor was showcased on Thursday at the "To Tell a Story," gallery, hosted by the Art and Design Department.
Rachel Siporin has taught visual art at CCSU since 1984 and her work explores a variety of media, including painting, color-reduction woodcuts, and intaglio prints.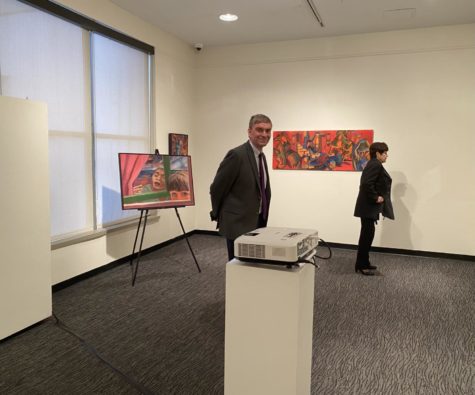 Siporin said she came across negatives from her parents which provided the inspiration for the paintings and intaglio prints in Murals in the Marketplace.
"I composed the paintings and etchings in Murals in the Marketplace imagining the world through my father's eyes," Siporin said.
Murals in the Marketplace is an exhibit Siporin did in New York City last year. Siporin focused on narrative and observation from her father's trip to Mexico in 1939, Bowery Gallery said in a press release.
Siporin said she invented the appearance of Diego Rivera in the Marketplace, with fragments of his murals painted on market walls. This emerged from imagining her father's inspiration.
"As he always told me: we're the Mexican Muralists, not Picasso," Siporin said.
Alumnus Lori Camilleri said Siporin offers a poetic marriage of spontaneity and deliberation in her catalog essay.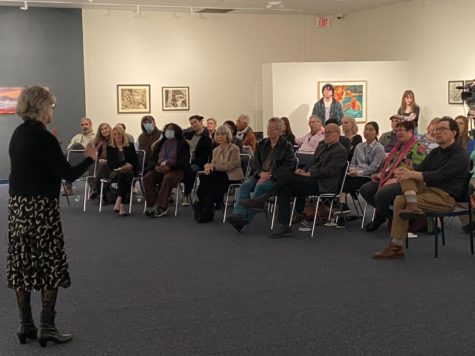 "Sometimes I feel I am a novelist watching my characters interact and directing the drama as it unfolds," Camilleri wrote on Murals in the Marketplace.
The exhibition is a free event that goes till April 27 and is located on the 2nd floor of Maloney Hall. The Art Gallery is open Monday through Friday from 1 p.m. to 4 p.m.