CCSU Cancels Spring Break For 2021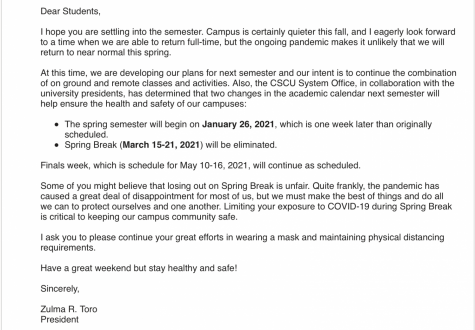 The Connecticut State Colleges and Universities (CSCU), in collaboration with the university presidents, have determined that spring break will be officially eliminated from the spring 2021 semester.
President Dr. Zulma R. Toro issued a mass email to students explaining the developing plans for next semester.
"Some of you might believe that losing out on spring break is unfair," Dr. Toro stated in her email. "Quite frankly, the pandemic has caused a great deal of disappointment for most of us, but we make the best of things and do all we can to protect ourselves and one another."
The spring semester will now begin one week later than originally scheduled, with classes beginning Jan. 26, 2021.
Though the week of spring break, from Mar. 15 to Mar. 21, has been cancelled, finals week, May 10 to May 16, 2021, will continue as scheduled.
As of now, the intent for next semester is to continue the combination of on-ground and remote classes and activities. 
"Limiting your exposure to COVID-19 during spring break is critical to keeping our campus community safe," Dr. Toro's email went on to state. 
The Council of Deans made the decision during its meeting on Sept. 2 regarding preparations for the spring 2021 semester.
In a memo from the provost, Dr. David Dauwalder, to deans, he wrote, "although we hope for a return to pre-COVID normalcy for our operational environment, we must plan for a spring 2021 semester under conditions similar to Fall 2020."
In addition to eliminating spring break, the provost outlined that planning for the upcoming semester needs to include three scenarios: HyFlex, fully remote and on-ground.
Alexandra Opoka, a senior nursing student at Central, was upset to hear about the decision.
"Having it taken away took me back to the harsh reality that our senior year isn't what we had dreamed it to be, almost taking away the hope of having a relatively normal senior spring," Opoka said. 
But Opoka says she respects CCSU's decision and understands it was made with the best interest of students at heart.
"As upset as I was initially, I agree with the decision. I'm hoping that maybe by keeping our spring under tighter restriction, we'll be able to have commencement ceremonies to have that last part of senior year actually happen," Opoka said.
Colleges across the nation are following suit in cancelling spring break amid travel concerns throughout the pandemic. 
According to ABC News, the University of Michigan is among one of the latest universities to eliminate it, including fellow Big Ten universities like University of Wisconsin, Madison, Purdue University, Ohio State University and University of Iowa.
Other higher education institutions, including the University of Tennessee, the University of Florida, and Baylor University, have taken a similar course in removing spring break from the spring semester.
Shawn Savior, a Central senior, also stands by the decision to cancel spring break at this point in time, though he suggests CCSU may have eliminated it prematurely.
"I think that it may be a bit too early to call it at this point. It seems like the time for when we can all be safely on campus again is constantly changing," Savior said. "Seeing as how spring break is about six months away, that's a lot of time for the current situation to change. I think it's all about what things look like during winter break."
The target date for the release of the spring 2021 schedule for use in advising is around Oct. 5, 2020.