New Hartford Finds Hope After Fire Destroys Historic Structure
The small, quiet town of New Hartford, Connecticut was forever changed after a three-alarm fire left its biggest historic building, the New Hartford house, in ruins last year. Now, plans are in the works to rebuild it.
The New Hartford House was constructed in 1888 and first opened as a hotel. About halfway into the building's lifespan, it was converted into a multi-use space with businesses on the ground floor and apartments on the second and third floors. It stood the test of time for 133 years before going up in smoke on Aug. 10, 2021.
Town officials said the fire was too destructive to determine its cause. All tenants were successfully evacuated and relocated and no lives were lost.
As a result of the building's demolition, New Hartford Center has been left with a considerable void. Not a trace of the building remains, apart from the sidewalk that once led into the six businesses it formerly housed, including a popular tavern with outdoor seating.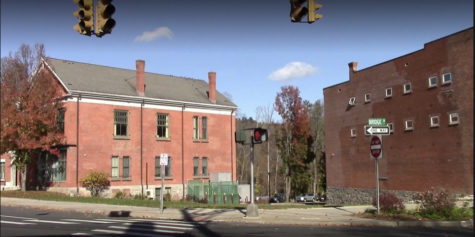 Although a welcome change will be coming, memories of the fire are still fresh in the minds of residents. Historical Society Member Anne Hall, who works across the street from the site of the former building, remembers the blaze as if it happened yesterday. She is now greeted by an unusually clear view out her office window.
"My husband, at that time was going into work about 5:30 a.m.," Hall said, "and he called me up and he said, 'the pink hotel's on fire.' My first reaction was disbelief, but not surprised. We knew it was a very old building with a very complex structure."
New Hartford First Selectman Dan Jerram, who had booked hotel reservations for a getaway to Cape Cod on short notice, said he woke up to a distressing phone call at 2 a.m. with news that his town was burning.
"I immediately jumped up, got dressed, went downstairs, and my wife had fallen asleep on the couch," Jerram said. "She looked at me and she said, 'you're dressed different.' And I said, 'yeah, have fun at the cape. Chatterley's is on fire.' as soon as you drove up, you could see that the flames were already through the roof."
Hall lamented the disappearance of the historic building.
"It's a huge change in the view of the town." She said. "There's a hole — a genuine hole."
Jerram said the owner of the building hopes to fill this hole with a newer, modernized New Hartford House that should stand the test of time better than its predecessor. He said it would utilize more modern materials and conform to today's more stringent building codes, all designed to prevent fires and streamline evacuations.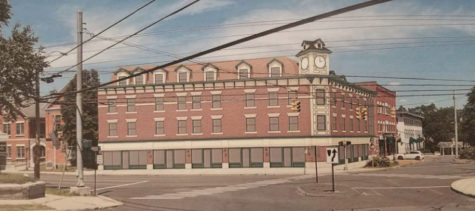 "We've already had the owner of the property here with an informal discussion with our zoning board and he has a preliminary plan," Jerram said. "It much resembles the old building, but obviously with modern construction material. And I'm hopeful, knock on wood … that the zoning commissioners will give them a fair look and clear the way for them to gain full approval."
Jerram said that the new New Hartford House will feature an extra floor and a sprinkler system to prevent a similar tragedy from happening again. He also said while these tragedies come with their hardships, there's always something good to be gotten out of them.
"When you see these events, as much as you recognize you're experiencing a tragedy right before your eyes … sometimes there are silver linings," he said. "How our community and our team came together to fight the fire, I thought was a small miracle. To lose a building is one thing, but how the community responded, I think, tells the greater story."
Hall said the importance of historic buildings like the New Hartford House should not be taken for granted.
"We need to be aware that these historic structures are more than just buildings," Hall said. "They're people's memories. They're touchstones."
The estimated construction and completion dates for the new building are not yet known as the project is still under consideration by the town's zoning board.  However, residents in this quiet, northwest hill town are looking forward to seeing the historic New Hartford House rise from the ashes, bigger and stronger.