A Dive Into Campus Resources
While some resources on campus are stretched, support for students is available, according to advocates who work for departments under the Office for Equity and Inclusion.
Lindsey Hammell, Case Manager for the Office for Equity and Inclusion, said she is currently working dual roles and has taken on the responsibilities of Sexual Assault and Violence Prevention Specialist in the Office of Victim Advocacy.
"I think that CCSU does the best they can in terms of helping sexual assault victims in the immediate, and they also have counseling services that are confidential for students, which I think is extremely important," Hammell said.
Hammell said CCSU works closely with local resources, and this office has an excellent relationship with them. She said resources like the sexual assault crisis services through the YWCA, and Prudence Crandall in New Britain are used often and have been very helpful.
Hammell said they are lucky to have close resources to work with, even if CCSU does not have all the necessary means on campus. She said a 24/7 on-sight crisis counselor on campus would greatly benefit the students here.
"If they needed services at any time, immediately, there is always somebody on call who can be on campus in a short time to help a victim or survivor through that," Hammell said.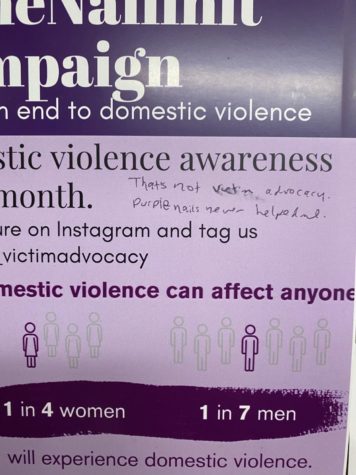 An increase in the budget would be helpful in terms of getting more support around the office and being able to engage even more than we already are, Hammell said.
"I think this office has a lot of room for growth," Hammell said. "I think there's a lot of things that this office can potentially do if we got more funding."
Hammell said the Office of Victim Advocacy is run by one person, so having somebody else would be helpful.
"I think the more that people talk about these issues and the more access that people get to these offices," Hammell said.
Dr. Julia Blau, Chair of the Committee For The Concerns of The LGBTQIA+ Community (CCQ), said she'd been involved with and supportive of the queer community for decades.
Blau said this is her fourth year on this committee of faculty, administrators, and one student.
She said the goal of the LGBT+ Center is to create a safe space for the LGBT community here on campus.
"The center should also create programs for the youth to get involved in and to help promote understanding among people who are not LGBT and acceptance among those people but also a sense of community within the LGBT community itself," Blau said.
Blau said the ultimate goal would be to get the LGBT+ Center moved to somewhere more central and gender-neutral and still have a gender-neutral bathroom.
"I'll be honest, I'm not happy with where things are," Blau said.
Blau said the objective is to hire a full-time director to take over so the center can function as it needs to.
Blau said the committee is still conducting a search to get a director, but in the meantime, they don't have a full-time person running the center at all.
"That center should be open all day, every day," Blau said. "That center should be doing all kinds of outreach work, and it's not doing any of that right now."
Blau said the doors are open, but the center should be available for longer and have leadership for these programs.
"So no, I'm not particularly happy with how it's currently being run because it's not currently being run," Blau said.
Blau said an internal search is done first because of union rules, and then they can open it up to a nationwide search.
"All of that takes forever cause it moves at the pace of bureaucracy, and in the meantime, all of the students and the people we are supposed to be servicing don't have a place to go," Blau said.
Blau said that the doors are open sometimes, but keeping the lights on does not equate to an outreach center.
"It's such an incredible mass of paperwork and people that have to agree, and [the committee] only meets once every Tuesday when it's a full moon; that's the way it goes," Blau said.
Blau said she hopes the process will start sometime this month but wishes CCSU could hire a temporary person in the interim since a director is needed.
Blau said temporarily hiring someone would help them since nothing can be done without a new coordinator.
"We've had hate crimes on this campus; those things happen because people don't understand the community," Blau said.
Blau said outreach brings those rates down, and the LGBT+ Center's events demystified the population.
Blau said the LGBT+ Center was originally a student club called One in Ten. It was called that because only one-in-ten LGBT students graduated. The other nine either dropped out or committed suicide, then the center was founded.
She said that more LGBT youth are graduating from CCSU programs because they receive more support.
"This center is vital, life-saving, and I would like to see it more functional than it currently is," Blau said.
Blau said she would like to see the LGBT+ Center start back up because the queer community is incredible.
"Right now, they're having to do it without support from the administration, and that's not how it should be," Blau said. "They should be getting our full-throated support, and they're not. That's something that we should change."
Jacqueline Cobbina-Boivin, Director of the Ruthe Boyea Women's Center, said the department's purpose is to advocate, educate, and develop programs for female students, staff, and faculty.
Cobbina-Boivin said the Women's Center introduces policies that enhance women's lives on campus.
"I'm interested in women issues and the enhancement of women," Cobbina-Boivin said. "I use my voice to help those who don't have a voice."
Cobbina-Boivin said she has always identified as a woman and recognizes challenges for women.
Cobbina-Boivin said their events were well attended during COVID, and they used social media to stay connected with students.
"People are surprised by our ability to do what we do with one full-time faculty and students," Cobbina-Boivin said.
Cobbina-Boivin said they try to implement what they can and advocate for more money to develop a center that other universities look up to.
"Everything that we do is developmental, and we work with each and every student," Cobbina-Boivin said. "We're constantly changing because of the issues impacting women at the time."
Cobbina-Boivin said they find money to support initiatives and could always accomplish more with a bigger budget.
"You'd be surprised with what we do with what we have," Cobbina-Boivin said.