CCSU Construction Projected to be Complete by End of Year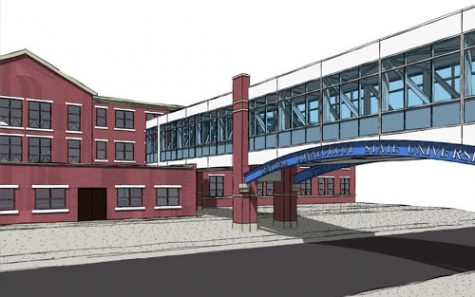 Central Connecticut State University continues to work on multiple construction projects which are projected to be complete by the end of 2021. 
The Willard and DiLoreto Parking Garage is one of the biggest projects currently underway. Its planning has been in the works since 2016 but its construction did not begin until October of last year.
The approved construction budget for the project is $19.56 million. The safety of students and all users has been a main consideration throughout the project's design.
Henry D. Altman, campus architect, said the garage will be well-lit and will have emergency call buttons consistent with other areas of campus. There will also be an extensive network of security cameras covering the garage at each level.
"The design of the garage itself was intended to provide safe vehicular travel in, out and through the structure," Altman said. "A new traffic signalization system will be installed at the intersection as part of the project to provide additional safe passage for vehicles and pedestrians alike."
The garage structure is precast concrete with poured in place concrete foundations. The bridge connecting the garage to Willard-Diloreto is steel and glass with concrete piers.
Altman said that it was important to the university that Central be a good neighbor to the pre-existing style of the surrounding New Britain community.
"Instead of just being a concrete behemoth, CCSU wanted this to have proportions, colors and materials that were in keeping with the area," Altman said. "The façade of the building employs brick masonry to be empathetic to adjacent masonry buildings." 
Miya Laprise, a senior at Central, is excited about the project. Though she won't get to utilize it since she graduates this May, she said it has been fun to watch the project.
"I drive by the construction at least once a day so it has been cool to see the progress," Laprise said. "I think the aerial walkway is a great idea because students won't have to worry about crossing through busy traffic and they'll be able to get to their classes and cars quicker."
Altman said he is pleased with the progress so far.
"With the pandemic there have been some challenges impacting the delivery schedule, but it is our expectation that the project completion will be on track," Altman said. "The construction team has been terrific and takes safety very seriously; safety on the site, as well as the safety of the CCSU community."
This particular section of campus has been re-energized recently with the completion of the Willard-DiLoreto complex providing essential student services and classrooms. This has increased the demand for parking in that area of campus.
"The garage will make coming and going to campus much easier, as it will provide additional parking spaces that have been needed, to better serve our students and visitors. The pedestrian bridge will not only provide a physical connection to Willard-Diloreto, but it will also serve as a kind of "gateway" into our campus," Altman said. "The building will be a wonderful addition to campus in many ways, and I look forward to seeing its completion."