Elihu Burritt Library Taking On Covid-19 A Page At A Time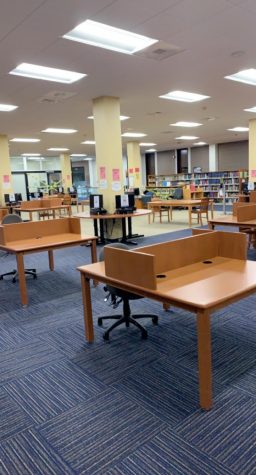 The Elihu Burritt Library, which once was home to student traffic, looks emptier this semester. With the dangers of coronavirus on everyone's mind, library staff have transformed how the building functions, putting safety at the forefront.
On Oct. 9, library staff released a newsletter detailing some of the changes they've made.
"Many laborious tasks were undertaken to prepare the physical library for safe opening, including creating new signage, installing stanchions to close the stacks, setting up tables to quarantine returned books, and establishing new lending and other procedures," Susan Slaga-Metivier, Head of Reference and Instruction, wrote in the newsletter.
The newsletter also revealed that the library requires masks at all times, food and drink are not permitted and hand sanitizer is readily available at the library entrance.
"We consider ourselves a holder of all this great information and we want to make this information available to all our students," Carl Antonucci, Director of Library Services, said.
Antonucci stressed the lengths library staff have gone to in order to keep both the students and themselves safe.
"We've taken all the hard-copy periodicals off the shelves, we scan the text-books and send them to students so that way they don't have to [touch] books that other students have handled," Antonucci said. "A lot of our reference librarians are at home [where] it's virtual and they are able to take all the questions the students have."
As the semester approaches its midpoint, many students are now beginning to focus on research projects and papers. To assist students in these endeavors, library staff have created a service called "Book a Liberian," where students can virtually access librarians in an innovative way.
"If you have a research project you need to do, you can meet for a brief chat session, but you can also book a librarian as part of a longer session where they can guide you through a database or screen-share to help you with whatever you need,"Antonucci noted.
As part of the new safety guidelines, the library does not offer printing this semester. Printing is available, however, in the student center.
While there are new ways students can attain library information, some students still choose to go to the library for other purposes.
"Say you have a Hyflex class and you meet in the classroom somewhere on campus, then you have an online class but you don't have time to get home, a lot of students then come to the library where there is great WiFi," Antonucci said.
However, of those who have decided to go into the physical library, Antonucci revealed that there have been some minor violations of library guidelines.
"We have had some violations where some people haven't been wearing the mask, they've been sneaking into the stacks, and eating food together. So, we've had to tell them, in a nice way, please stop. But people for the most part have been understanding."
Overall, most of the activity revolving around the library has been conducted online with a large reduction in on-campus interactions. According to Antonucci, the gate number for the library this September was 4,066 which is a dramatic drop compared to the 58,243from Sept. 2019.
Those that are a part of the 54,177 that haven't visited the library this semester, and have overdue books, Antonucci said not to worry.
"There will be no penalty at all. We want to make it as easy as possible for students to return their books. They can even mail them back to us or leave them curbside with your name on them if you don't want to go into the building," Antonucci said.