Russia-Ukraine War: A Perspective From Ukrainian New Britain Residents
Ukrainian New Britain residents said the past few weeks have been very difficult and scary due to Russia's ongoing war against Ukraine.
"I'm feeling useless by not being able to help while being so far away from my country," said Lyubomyra "Luba" Ivasyuk, the owner of New Britain House of Pizza. "I'm feeling upset that in the 21st century, the world cannot have peace and that world leaders can't sit down and talk; instead, they choose violence."
Ivasyuk said she has lived in Connecticut since August 2001 and usually visits her family in Ukraine once a year. This year, she is uncertain if that will happen.
"I feel scared for my family and friends that are in Ukraine. I feel scared that I might not have a country to go back to," Ivasyuk said.
The majority of Ivasyuk's family lives in Western Ukraine, but said she has two nephews who "live three hours away from Kyiv," where the bomb and missile attacks took place on Feb. 24.
The Rev. Andrii Pokotylo of St. Mary's Ukrainian Orthodox Church said he is unsure if he will see his family in Ukraine again.
"Last time I visited Ukraine was before the pandemic," Pokotylo said. "I told my mom 'I'm not sure if I will see you again.'"
Pokotylo said he wanted his mother, along with the rest of his family living in Ukraine, to come live in New Britain with him, his wife, and his son, but they refused.
"Anything can happen, but my parents said they want to be buried in Ukrainian soil," he said. "We tried to convince them to come here, but they said 'no, we're staying.'"
Pokotylo was born in the Lviv region of Ukraine when the Soviet Union ruled it. In 1990, the last year the country was under the Soviet Union's rule, Pokotylo decided to pursue religious education, but he said it "wasn't popular at the time."
According to National World, Ukraine gained independence from the Soviet Union on Aug. 24, 1991. A few years later, Pokotylo moved to the United States in 1996 and has lived in New Britain since 2009.
Ukraine's independence is a core factor behind Russian President Vladimir Putin's attack on the country as he said it was illegitimate.
According to Vox, Putin said, "the disintegration of our united country was brought about by the historic, strategic mistakes on part of Bolshevik and Soviet leaders… the collapse of the historical Russia known as the USSR is on their conscience."
Putin also said that if Ukraine joins the North Atlantic Treaty Organization (NATO), this will serve as a basis for a possible American attack on Russia.
Pokotylo said he was against Putin and denounced communist propaganda. He had experienced being told false information in Soviet Ukraine.
"They always had to blame somebody for their failures," he said. "Putin believes that if Ukraine joins NATO, that NATO will attack Russia, but we wouldn't need to do that."
Ivasyuk also said it's important for people to get their information regarding Ukraine and Russia from "the right sources because Russia sends out a lot of disinformation."
Although the war between Ukraine and Russia continues, both Ivasyuk and Pokotylo said there's hope for a promising future for Ukraine.
"Once Ukraine defeats Russia, and I'm 100 percent sure we will, Ukraine will blossom, rebuild its cities, and many Ukrainian citizens will get to return home," Ivasyuk said.
Pokotylo said even if the worst-case scenario happens, there's one thing Putin can't take away from Ukrainian residents.
"I think their best defense is the will of their people," Pokotylo said. "I think if Russia ever occupies Ukraine, [Putin] will never have peace because Ukrainians won't stop fighting; it would be another Afghanistan War."
St. Mary's Ukrainian Orthodox Church in New Britain has partnered up with the Ukrainian National Home of Hartford. This non-profit organization has collected medical supplies and other essential donations to help Ukraine citizens.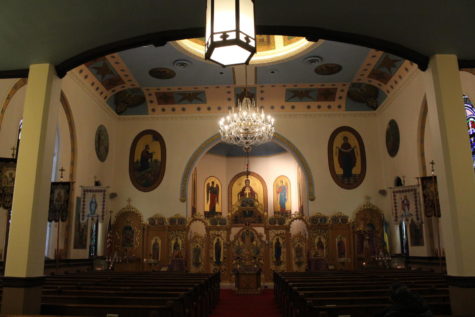 "I went to help send diapers since many children are in need because them and their mothers ran away from the bombings," Pokotylo said.
Central Connecticut State University President Zulma Toro mentioned the Ukrainian National Home of Hartford in an email she sent to the student body on March 7 as one of the many ways CCSU students and faculty can help support the people of Ukraine.
For more information on how you can support Ukrainian citizens locally, visit http://ukrainiannationalhome.org/