Connecticut Takes Action Against Climate Change
Hundreds of Connecticut high school students and environmental activists rallied together on the steps of the Capitol Building to protest for better action on the climate crisis the world is facing.
They, along with millions across the country, stood with handmade signs saying, "Stop Environmental Racism", "Save Our Seas" and"Don't Be A Bottom Feeder!"
The movement, known as the Global Climate Strike, began after 16-year-old Swedish high schooler Greta Thunberg started skipping school on Fridays to protest against Swedish politicians' unwillingness to address the current climate crisis.
As her efforts to draw awareness to climate change continued, thousands began to join her, thus leading to Friday's protest – which was joined by over 150 countries and all 50 U.S. states, according to organizers of Global Climate Strike.
The event was held in hopes of encouraging adults to join in and jumpstart the week of events for the United Nations Climate Action Summit, which began on Sept. 23.
15-year-old UCONN freshman Sena Wazer was one of many who helped to organize the event, in hopes of encouraging adults to join in and jumpstart the week of events for the United Nations Climate Action Summit.
She pointed out that the reason for high school students rallying together for such a cause was because "adults don't always take action to protect our planet."
"We do not just want a common denominator out of the White House, we want a climate leader," Wazer stated."Perhaps if we had taken action in the past we wouldn't have to take such drastic action now. But we didn't and now you chosen it over me and my generation and future generations."
"We don't know exactly all the technical challenges of switching to a sustainable world. But we do know we are not fighting for just one community or one generation, we are fighting for all people! And we are working towards clean air, clean water and a livable future for everyone" Wazer proclaimed.
"We are not doing this because it is easy or because it is hard, we are doing this because our future is at stake," she added.
The UN Summit, which began on Sept. 23, will look to implement the goals of the 2016 Paris Agreement, which will keep the earth's average temperature "below 2 degrees Celsius above pre-industrial levels and to pursue efforts to limit the temperature increase even further to 1.5 degrees Celsius."
Connecticut Senator Matt Lesser believes that Connecticut is working to eventually stop emitting carbon as whole; he added the rally was a great call to action for politicians.
"I think it's absolutely wonderful that an entire generation is standing up to call on us to act: to call on this state, this country, this world to change the way we've been doing things," Lesser stated.
Lesser emphasized the need to change the transportation and energy policies within the state. He suggests building a train station in Newington to limit the use of cars, due to their large production of emissions.
"I think what we really need to do is embrace local action, whether it is at the town level or state level we have a responsibility to act no matter what they say in Washington D.C.," Lesser expressed.
"We have to do everything we can. If they're not going to lead down in Washington D.C., we're going to have to lead within the states," he continued.
Although Governor Ned Lamont was not in attendance, he did issue a statement addressing the "significant threat" climate change plays on Connecticut's quality of life following the rally.
"It is irresponsible to push these issues down the road for future generations to tackle and solve. That's why we must act now," Lamont stated. "Connecticut is leading the charge in charting a path toward a cleaner, healthier community through our commitment to a zero-carbon electric grid by 2040 and to alternative energy sources, like the bipartisan support for offshore wind."
Many of the activists argued that the Lamont's plan for climate action by 2040 was too late especially after the UN announced people only have 11 years to make a change.
"In 11 years from now, I will be 26 and my sister will be 24, and I still want a safe future for us and rest of our generation at that time," Wazer stated. "We will not take no for an answer."
About the Writer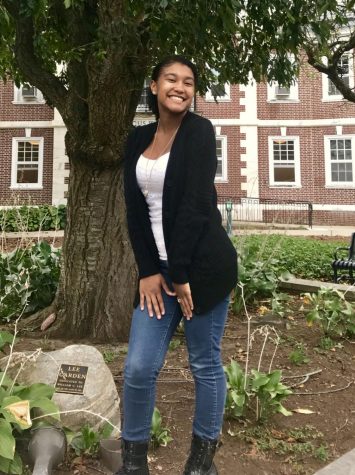 Isabella Chan, Editor-In-Chief