Eric Blake: Coach, Friend and Father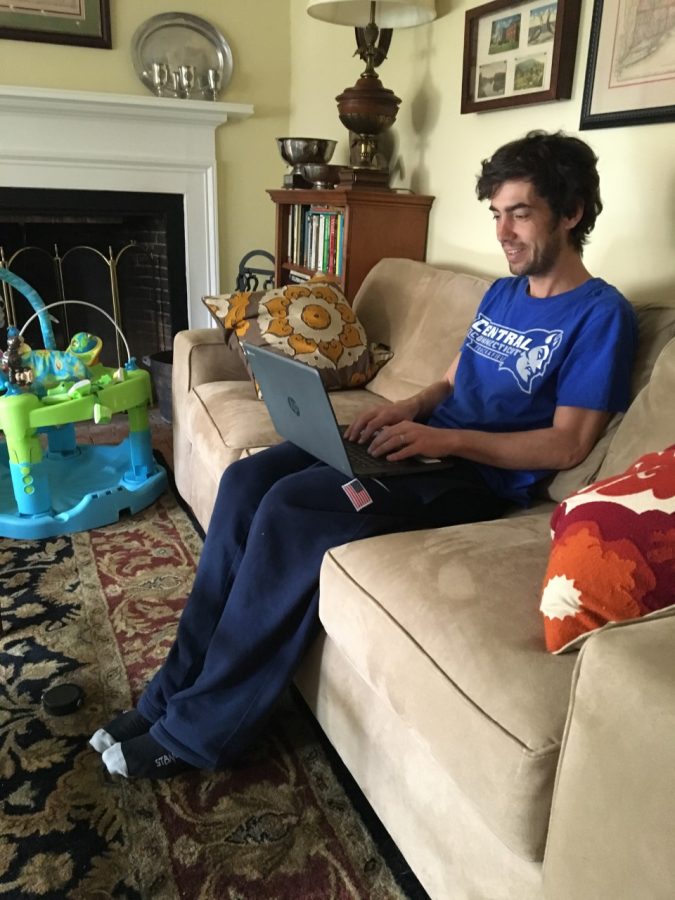 At this point in the pandemic, it is hard to find something that coronavirus hasn't put a halt to. The virus has shut down the entire sports world; professional leagues across the world have been suspended and the entirety of spring sports: cancelled.
For Central Connecticut's Track and Field Head Coach Eric Blake, winner of Cross Country Coach of The Year, the season may have been cut short but he has been just as busy with numerous phone calls and looking after his one-year-old child.
"It is strange, it's almost busier the amount of recruiting that we are still doing at this time. It is also probably busier cause I have a one-year-old running around and my wife is a teacher, so my life is pretty busy," Blake said. "There is very little boredom going along right now. It is unfortunate we're not going to track meets at the weekend but it is still a busy time."
Blake found out that their season was officially cancelled on March 13th when the Northeast Conference announced they would be cancelling all remaining 2019/2020 competitions and practices. His first thought was his seniors and how they were coping with the news.
"The first thing I did was called all our seniors really to thank them. We spoke with each of them for a few minutes with each of them, thanking them for their efforts over four-five years," Blake said. "For them to be a part of the program, they have had to go through a lot in those four years. My second thought was to make sure that everyone on the team was set up to succeed academically and pass and do well in their classes."
With gatherings banned and practice unavailable to happen, Blake supplied all his athletes with a guide of ways to stay fit and healthy despite the pandemic.
"I have given everyone a training guide, now we can't mandate what they can and can't do. The good thing about our sport is that they are able to get out and run and they don't need something like a basketball court to allow them to train," Blake said. "So we have given them guidance which I believe most of them are doing because of the work ethic they have. They are also in a position where everyone is at home and its good thing to get out there and do some exercise, regardless of if they are a Division 1 athlete or a coach."
One of the strengths for Blue Devil Athletics's is the outdoor track and field season, which was unable to proceed due to COVID-19. While Blake and his team aren't alone in having their seasons being taken away, the news stung hard as it was their strength points.
"One of our bigger focuses as a track and field team is the outdoor season. It fits our program a little bit better because in some events we're stronger in outdoor track," Blake said. "For example, the javelin, 400m hurdles and then distance events, we have the steeplechase and the 10km that aren't indoor events. Usually, we do better in outdoor events and we were excited about the outdoor season."
Some of the teams' seniors, Gianna D'Amato, who throws javelin and has medaled in the conference, and Haley Rospierski, one of the teams best multi-event athletes, could both potentially return. So despite all the uncertainty surrounding the pandemic, their returns remain as some positives for the team. Furthermore, they hope to have everyone on the women's track team come back as well. If so, this could mean the cross country team could be very strong and could potentially three-peat if they are back up and competing in light of COVID-19.
Up until the season ended abruptly, the team had been a very successful during the cross country and the indoor track and field season. Recently, the NEC announced CCSU's women's track and field team earned the Winter Team Sportsmanship Awards for two years straight as well the entire indoor track team breaking several school records.
The women's cross country team won Northeast Conference for the second consecutive year as well and became Blake's highlight of the season.
"There were a lot of individual achievements that come close but team championships always get the nod," Blake said. "It was at home and we had a strong team and we were heavy favorites and Angie, who won the year before, was also the heavy favorite. At home, the nerves, the pressure was definitely there and the team handled it very very well and that says a lot about them."
Despite being the overwhelming favorites, the team didn't field the full quota of runners, showing the strength and depth of the team.
"It is one thing to win as an underdog as this can be easier as there isn't the pressure. We only raced seven [athletes] when you can race 10, so our depth wasn't great so we needed everyone to have a good day. Our top five all had huge personal bests and that says a lot for how they handled the pressure," he continued.
The team also had numerous selections to All-NEC teams, showing the quality within the program. In total, the Blue Devils had five first-team selections, two-second team selections and two all-rookie team selections. Senior Megan Brawner and sophomore Angie Rafter were named Most Outstanding Track Performer (Distance) capping off a very strong year for the program.
Looking ahead to next season, one of the positives for Blake is the return of Brawner, who will be is taking advantage of the extra year of eligibility being made by the NCAA. Brawner broke the school mile record and then the following week broke her own record.
Brawner took advantage of the extra year of eligibility as she wanted to finish her time at CCSU on her own terms.
"I decided to return to use my cross country and outdoor track eligibility because I did not want to look back 10 years from now and think, 'What if?',"Brawner said. "Life is too short to have regrets and I deserve to have that closure of finishing my career with my team as I had always intended."
With Brawner staying it means that Blake will be keeping one of the best units in the conference together for another year.
"On the women's side, Megan Brawner is planning on coming back and she has cross country eligibility," Blake said. "So she'll have outdoor track and cross country eligibility. "
"Angie Rafter, Ashley Dana and Megan [Brawner] all worked really well together when they were training for the mid-distance events. In cross country this year, they all did a good job of pushing each other," Blake said.  "They just work really well together and when you have one of the best runners in the conference next to you regardless of who it is. They know that if they are not on in practice that they are gonna be a step or two behind so the really have to bring their A-game every day."
With their accomplishments, the team has high hopes for the future, especially with the team's largest freshman class joining in the fall. Even though it is a larger class, Blake sees positives in this.
"It looks like it'll be a large freshmen class across all events," Blake said. "We recruit mainly in the state of Connecticut so if we get a state champ coming in then that is a good recruit for us. The larger freshmen class is something that will help us further down the road with regards to depth."
"A larger class is a good thing because if they all have the right work ethic and fit in with the program like I think they do there's just a bigger chance that more of them will go onto to succeed over a four year period," he continued. "That is what our program is all about. We're not bringing in the state open champ every year but we're bringing in someone who buys into our program, works hard and gets better during their time here. We're not done recruiting yet but the larger the program, the better our chance of success is."
Recruiting during a global pandemic was never going to be easy. Especially since there is no way to physically meet recruits and invite them to campus leaving Blake to find new and inventive ways to get signees.
"The high school seniors are in the same position in that they can't come and visit. I talked to one of our recruits over the phone and he had never been to our campus so I sent him a virtual tour," Blake said. "He looked it over and then a couple of days later he called to say he is committing to the school. That's a good example of the new ways we're having to recruit."
Since the outdoor season was cancelled, the team has entered its offseason, however, they a lot of miles ahead of them and are making sure they are at peak fitness come the start of the season.
"Right now, they might only be getting in a run a day because of exams and school work but the big summer miles will be coming in a couple of months. We always want them to put big training in for June, July and August We don't want this to start too early because come September they could be a little fried so they need to find the balance," Blake said. "The running that they are doing now will help them in the fall and then again in future seasons. Every season is like stacking a brick, even if that training isn't helping them because they isn't a race next week or next month. It is still helping them six months from now, a year from now."
Going into the fall season there is a lot of uncertainty. With the NCAA saying that if schools haven't opened and students are learning online, then there will be no fall sports season. Come fall, no matter the outcome, CCSU cross-country and track field will be ready to go on the starter's gun.