Cost and Accessibility of Higher Quality Masks
Some Connecticut residents said that masks are affordable for the general public, whereas others said they are not.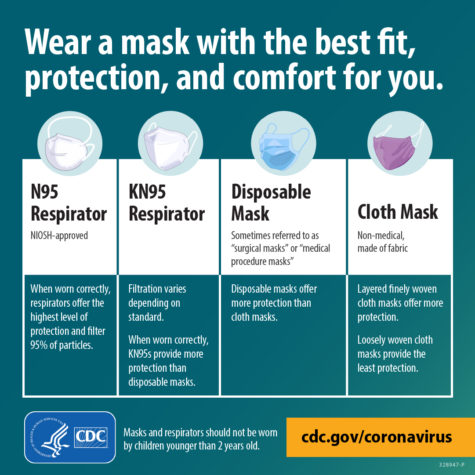 According to the Centers for Disease Control and Prevention (CDC), the N95 and KN95 masks are recommended to reduce transmission of the virus that causes COVID-19.
Michael Purcaro, an Ellington resident, said the town of Vernon, like many of our neighboring towns and cities across the state of Connecticut, has been fortunate to receive a large quantity of N95 masks. 
As the town's administrator and director of emergency management, Purcaro said they structured a community-wide public distribution program over the past several months.  
"The town of Vernon is the only community in the state of Connecticut that has been nationally recognized by the CDC for their ability to reach the hardest to reach populations," Purcaro said.  
Vernon has made the masks accessible for as many members of the community as possible, Purcaro said.  
"We don't mandate wearing masks, but we educated the individuals in our community and neighboring communities about the benefits of wearing masks," Purcaro said. "But we never forced it on anyone like others are doing in other parts of the state and parts of the country."
He said their unique approach made it accessible for anyone that chose to wear a mask. They distributed thousands of masks over the course of multiple days.  
"In order to effectively reach the public we serve, you have to do a multimedia information sharing and we did a lot of non-traditional work which helped get us the national recognition," Purcaro said.  
He said they worked with faith-based organizations and provided access to break down as many barriers as they could.  
Purcaro said the hardest aspect of his job has been sharing credible information, educating the public they serve, and helping them make informed decisions for themselves and their families. 
Deputy Emergency Management Director of the West Hartford fire department, Robert McCue, said they asked for 230,000 N95 masks and the state delivered them early on. They started distributing masks in the community and did so from Jan. 8 to Feb. 23 this year.
McCue said he couldn't have done it without the support from the Community Emergency Response Team made up of volunteer West Hartford residents.
"Originally, we were doing 4 masks per person. But then as we saw our supplies lasting, we started going up to 10 masks per person," McCue said. "We did a total of 190,000 masks distributed. Instead of trying to give it out to each individual person, we would give them out to family members or neighbors. We had two folks in the office that were doing deliveries to those who didn't have transportation down or might've had a special need that prevented them from coming down."
He said the price of high-quality masks depends on when you're buying them. During the height of COVID-19, they costed around $4 or $5 because the demand was going up. Now, the N95s most likely cost maybe $1 or $2.
McCue said they're currently more affordable for folks and they can also reuse the mask.