Almost 10% of CCSU Students Were Granted Non-Medical Exemptions From COVID-19 Vaccine Mandate
A total of 858 students, almost 10% of Central Connecticut State University's student body, were given non-medical exemptions to the COVID-19 vaccine mandate since it was imposed in 2021, according to a university response to a Freedom of Information Act request.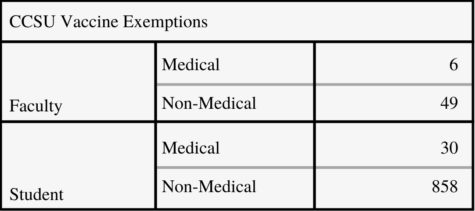 CCSU also gave 49 non-medical exemptions to faculty members, accounting for about 6% of those currently employed. 
Chief Operations Officer Sal Cintorino said that CCSU chose not to reject nearly any medical or non-medical exemption requests. 
"Those exemptions we recognized because we didn't have a way to dispute that, right," he said. "And because we could never force somebody…to be vaccinated anyway." 
Cintorino said that the university was sympathetic to students who wanted to make their own decisions and wouldn't force anyone to get the vaccine, especially before it was fully FDA approved. 
In January, the Faculty Advisory Committee brought a resolution to the Board of Regents asking the university to require students to provide a written explanation for non-religious exemption requests. Thomas Burkholder, president of the Faculty Union and CCSU's AACP, said that the resolution was "ignored" by the Board of Regents.
The Faculty Senate discussed the same desire for students to provide written reasons for exemption requests in a meeting in December of 2021.
Fred Latour, President of the Faculty Senate, said that he hoped that if students had to provide a reason, it would allow CCSU to step in and educate students based on their responses.
"The mission of central is to provide an education to students. Part of providing an education is to help people discern what a trustworthy source of information is," he said.
During the Senate's December meeting, Cintorino said the university was planning to fulfill the senate and FAC's request, but they were still working on criteria for the reasoning.
Latour believed that the university was hesitant to require written reasoning because it would indicate that they endorsed the reason behind every exemption they requested.
"They didn't want to be in the business of sorting out which would be a good reason and which would not," he said.
At this time, the university does not require written reasoning for non-medical exemptions.