SGA Fall Election Candidate Declaration One Week Away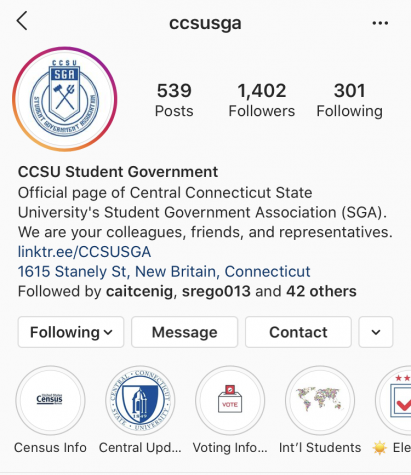 The presidential election isn't the only politics being discussed on campus as Central Connecticut's Student Government Association (SGA) is preparing for their own fall election, despite having to do so mostly virtually.
This fall there are 18 available seats. There are six openings for at-large senators, nine openings for commuter senators and three openings for resident senators. Those applying to be at-large senators can be full-time or part-time students; all other senators are required to be full-time students.
To be qualified to be a commuter senator, candidates must be full-time commuters, while resident senators must be full-time residents living on campus at Central.
The fall election candidate declaration period will open Sept. 21 and will run through Sept. 26. Candidates can access the application on the SGA's Instagram page @CCSUSGA. The link to apply can be found in their bio.
Candidates will have two weeks to campaign for the election beginning Sept. 27 and ending Oct. 11. The fall election voting will then take place Oct. 12 through Oct. 14 and the votes will officially be announced at 5 p.m. on Oct. 15. 
Last week, to promote the election, the chair for SGA's Social Affairs Committee, along with a few senators worked with Central Activities Network (C.A.N) and put together a tabling event where they gave away free t-shirts and free SGA masks.
Over the summer,  the SGA has remained active on and off campus. In order to help adjust the virtual experiences, the organization had an online candidate gallery where they posted pictures of participants that chose to provide pictures with a short bio about them and reminded people what position they were applying for and when they'd be able to vote.
Currently the SGA is still waiting to see how campus will be operating during the voting time frame. While they are hoping to meet in person, they plan to do something virtually along these lines for the fall election if needed. 
SGA Vice President Cheyenne Bermudez is responsible for interacting with the senators, providing oversight in terms of making sure the guidelines set within the SGA's bylaws are being followed and making sure their club liaison program is operating as efficiently as possible. 
The club liaison program serves to help clubs stay connected with the SGA. Everyone on the senate is assigned three to five clubs that they have to meet with about twice a semester to answer any of their questions and keep in contact. 
Bermudez says she is proud of the resiliency of her fellow senators and peers in transitioning to mostly virtual. In fact. she believes that one of the positives that has come out of the pandemic is that the SGA has been making more use of their social media accounts and outreach.
"Ultimately, it has forced us to adapt to this new environment and I think a lot of people have been adjusting fairly well," Bermudez, CCSU senior, said. 
In addition to their Instagram, Twitter and Facebook pages where they introduce candidates, promote events and answer any questions, they also try spreading the word and engaging students by sending out mass emails to the campus community. 
"Right now we're doing a little bit of trial and error to see what gets students the most engaged," she further stated. "This whole semester is going to be kind of a trial run for how virtual meetings are conducted but so far I think we've been trying to engage with students as best as we possibly can."
Sophomore commuter senator, Jani Schofield, was elected last spring when CCSU had began transitioning to an entire online learning environment; her most of her SGA experiences, including elections, have been virtual. 
Though SGA is currently running differently than it has in past years due to the pandemic, Schofield says she has had a positive experience.
"It has most definitely strengthened my leadership skills and my communication skills," Schofield said. "It gears you up for a professional setting because you're dealing with other professional people that are administrators and professors."
Bermudez also is thankful for what she has taken away throughout her time on the SGA.
"For me, it has definitely been a confidence booster and it has helped me feel connected to a lot of different students that I normally probably wouldn't interact with," Bermudez said. "Especially during these times, it gives you a connection to the campus that is very easy to lose when all your classes are online and you're not able to interact with as many people."