Biden Signs Several Executive Orders In His First Week In Office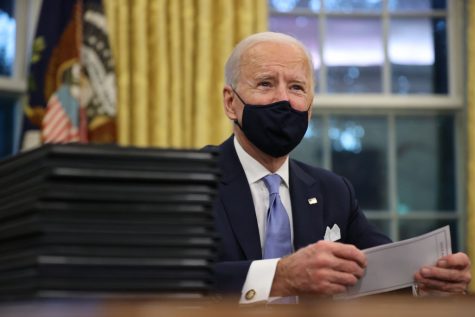 WASHINGTON, DC – JAN. 20: U.S. President Joe Biden prepares to sign a series of executive orders at the Resolute Desk in the Oval Office just hours after his inauguration (Photo by Chip Somodevilla/Getty Images)
On January 20, 2021, President-elect Joe Biden and Vice President-elect Kamala Harris were sworn in at the U.S. Capitol. History was made as Harris became America's first female Vice President, as well as first the Black and South Asian person to serve as the second in command.
In the few hours that followed Biden's inauguration, he signed several executive orders including the revision of civil immigration enforcement policies and priorities.
The order recognizes the benefits immigrants bring to America's economy, communities and culture.
"Immigrants have helped strengthen America's families, communities, businesses, and workforce, and economy, infusing the United States with creativity, energy, and ingenuity," Biden said in section 1 of his executive order.
The order will also revoke Executive Order 13768 of Jan. 25, 2017, an order signed by former President Trump that claimed a need to remove thousands of "aliens" or individuals who do not have U.S. citizenship.
In another executive order, Biden created the position of Coordinator of the COVID-19 Response and Counselor to the President. The individual assigned to this role will report directly to Biden, but they also will be essential for advising the executive departments on responding adequately and correctly to the coronavirus and other possible future pandemics.
In total, Biden signed 17 executive orders aimed at pressing issues currently facing Americans, including wearing masks, formulating a response that will stop the spread of COVID-19, immigration, racial inequality, climate change, federal review and regulation, and other matters.
Biden and his team have also taken further steps to tackle these problems. On the day of the inauguration, the United States rejoined the Paris Climate Agreement, a treaty signed by various nations to help mitigate climate change.
The United States also reversed its decision to withdraw from the World Health Organization (WHO). This allows the U.S. to once again exercise leadership and set an example, participate in international efforts to advance global health, eradicate threats and reform the WHO.
Biden also announced that the pause on federal student loan payments and collections would be extended and that interest rates would be kept at 0 percent.
"Too many Americans are struggling to pay for necessities and to provide for their families," a statement from the White House read. "They should not be forced to choose between paying their student loans and putting food on the table."
The freeze is said to last through September 20 and is expected to provide relief for upwards of 41 million student borrowers.
On January 22, Biden issued another executive order that calls for a government-wide effort to bring "equitable emergency economic relief" to struggling families and communities all over the country. This executive order will address the growing hunger crisis, getting financial assistance to those who need it, aiding veterans to maintain their finances and distributing government assistance.
More information about President Joe Biden's executive orders can be found on the Federal Register.gov website.