Polls Seek Younger Workers For Election Day Amidst COVID-19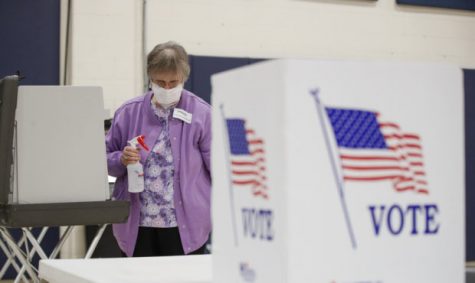 With the presidential election less than two months away and coronavirus remaining prevalent, government officials across the nation are urging young citizens to become Election Day poll workers.
A lack of poll workers is not uncommon. According to the Election Administration and Voting Survey , 70 percent of states and jurisdictions reported troubles recruiting Election Day staff.
The survey also states that around 77 percent of the poll workers are over the age of 61 which creates two problems.
According to the CDC, "the risk for severe illness from COVID-19 increases with age, with older adults at highest risk."
This means that if current trends pertaining to older Americans working at the polls continue, thousands of Americans would be putting their lives at risk on Election Day.
The second problem is that a lack of poll workers has been shown to contribute to voter disenfranchisement, as long lines curtail potential voters on Election Day.
According to Cathy Cook of the "Picayune Item," a typical day for a poll worker lasts between 12 to 15 hours and workers start training a couple of weeks before the election.
"Poll workers are the gatekeepers of democracy. They check people in, verify their identity, and determine their eligibility to vote," Cook says. "If voters do not appear on the rolls, poll workers trouble-shoot the problem or offer a provisional ballot. Poll workers also explain how the machines work, answer questions about the ballot and field complaints about long lines."
Many state governments, civic organizations and corporations have stepped up to raise awareness in light of this.
On Sept. 1, 2020, the Federal Election Assistance Commission declared "National Poll Worker Recruitment Day" with the civic organization "Power to the Polls." The effort was aimed specifically at younger voters; since then news outlets have reported 350,000 new poll workers.
State Director Eduardo Sainz of "Mi Familia Vota," a nonprofit voter outreach organization, told the Associated Press, "we need to make sure that every voter gets their vote to be counted and no voter gets turned away, and that means investing and having individuals who are culturally competent and speak several languages."
In an effort to incentivize poll work, on Sept. 1, Old Navy announced they would offer their employees a day's worth of pay if they signed up to work at the polls; Target later followed suit.
Earlier that day, Kentucky Secretary of State Michael Adams announced a partnership with the nonprofit trade organization "Guild of Brewers" to promote poll worker registration on beer cans. The partnership will work to place labels with QR codes on beer cans that take drinkers to a site where they may apply to work at the polls or register to vote.
In Tennessee, Secretary of State Tre Hargett announced an essay scholarship for students who participate in poll work.
"Students participating in this contest not only have the opportunity to win scholarship money by sharing their election experience in writing, but they are helping their local election commission run a safe and secure election," Hargett said.
Connecticut citizens may register as poll workers through their town government website or the Connecticut state government website.