Colorado Springs Club Shooting Comes On Heels of 'What Is A Woman' Controversy
Five people are dead and 19 are injured after the Nov. 19 mass shooting at Club Q, an LGBTQ+ nightclub.
During a drag show, multiple gunshots were fired in the club, shooting survivor Barrett Hudson said. Many assumed there were two shooters by the number of shots fired.
The shooting comes just days after the controversy over a "transphobic" film being shown on the campus of Central Connecticut State University. The movie "asserts a decidedly sexist, patriarchal view of Christianity as being the natural state of humans," the university's Pride club said.
"I did not expect to make it," Barrett Hudson said in an interview with CNN. After watching the gunman murder a man right before him, Hudson fell to the ground and was shot seven times in the leg. Hudson said he was luckily able to get to safety outside the club.
After being shot in the leg five times, Hudson got his phone out to call his dad because "that was the last person that I wanted to talk to," he said. All of the bullets missed his vital organs, and he is on the road to recovery.
Colorado Springs is not the first LGBTQ+ club shooting that has occurred in the United States. On June 12, 2016, 49 people were killed and 53 were injured at Pulse Nightclub in Orlando, Florida.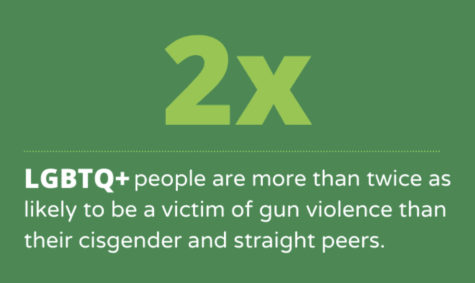 "I didn't care about myself in that moment," Club Q shooting survivor Richard Fierro said. He is credited with helping take down the attacker.
"I cared about everyone that was around me, and I cared especially about my family," Fierro told CNN. "I am not a hero…I am just a man who wanted to protect his kids and his wife."
President Joe Biden released a statement regarding the Club Q shooting:
"Places that are supposed to be safe spaces of acceptance and celebration should never be turned into places of terror and violence. Yet it happens far too often."
In an email from the Human Rights Campaign (HRC), President Kelley Robinson said anti-LGBTQ+ hate is on the rise and is fueled by political extremism and rhetoric.
"Anti-transgender stigma can lead to the denial of opportunities in society, such as employment discrimination and exclusion from health care, as well as to increased risk factors such as poverty and homelessness," Robinson said.
This is a topic that many in the Central community feel passionate about. Last week, dozens of students participated in a campus protest about the controversial "What Is A Woman" screening.
"We are concerned for the safety and wellness of trans, LGBTQ, women, and BIPOC students at CCSU," the CCSU Pride Club posted on Instagram, in regard to the screening.
The club post said, "The film is designed to cause harm to transgender people by promoting blatantly false information to reinforce a "grooming" narrative, invalidate and denigrate the identities of transgender people."
The screening was held by a chapter of Turning Point USA at CCSU. The club aims to "promote free markets, free speech, and small government through on-campus activism and open discourse," according to their Instagram page.
Besides a post promoting the screening, the chapter had not made any public statements regarding the controversial screening.
In reply to a comment on their Instagram page, the account said, "Hate speech is free speech. We had a politically active trans person come to our viewing. They didn't find anything transphobic about the movie. Maybe you shouldn't speak for trans people."
CCSU President Zulma Toro sent an email to the CCSU community concerning the screening, saying, "CCSU does not support the transphobic rhetoric espoused in the film."
She noted that because CCSU is a public university, events cannot be banned without violating free speech laws.
"The best way to combat opinions with which we do not agree or find offensive is not by suppression, but by exercising our right of free speech and peaceful expression," Toro said.