CCSU Pride Club And Supporters Protest Screening of Documentary Widely Panned as Transphobic
About 70 students, faculty and staff marched through Central Connecticut State University's campus Thursday in protest of a screening of the documentary, "What Is a Woman," produced by right-wing political commentator Matt Walsh.
Turning Point CCSU, the student chapter of the national organization, announced plans to host the documentary last week, prompting several other campus clubs and their leaders to organize in protest. The Transgender Justice Coalition, which was formed by four transgender CCSU students — two of whom are also on the Pride Club Executive Board — was a key organizer of the protest.
Pride Club President Myles Place said their group sent an email to CCSU administration earlier this week to express their concern for the safety of trans, LGBTQ and BIPOC students. The email was sent with endorsements from 130 individuals and 17 clubs.
"This film is designed to cause harm to transgender people by promoting blatantly false information to reinforce a "grooming" narrative, invalidate and denigrate the identities of transgender people, and to inspire hatred towards transgender people from viewers who may not be aware that the information they are receiving is both false and purposefully harmful," read the email. 
President Zulma Toro responded to concerns in an email sent to the entire campus community Wednesday afternoon, writing that CCSU "does not support the transphobic rhetoric espoused in the film." While re-affirming the University's allegiance to supporting the LGBTQ community, Toro said that, as a public institution, the University could not halt the film screening without violating the First Amendment guarantee of free speech.
"While I find the premise of the film to be odious, we must remind ourselves that silencing a few will only serve, ultimately, to silence us all," Toro said in the email.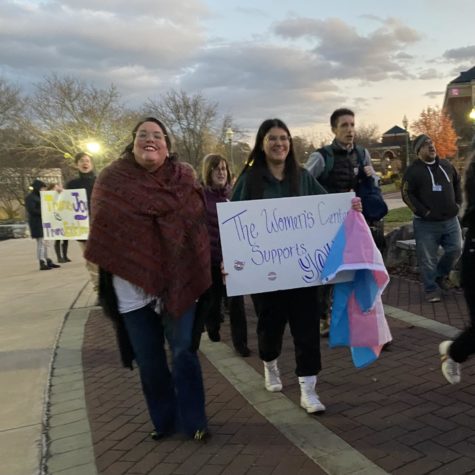 CCSU Student Lily Mercado said she felt the response they received from administration wasn't enough. "We are not totally happy with the response," Mercado said.
Members of Pride Club and supports gathered Thursday afternoon to take part in the "Countering Hate With Joy March," hours before Turning Point CCSU's scheduled screening of the controversial film.
Place said the Transgender Justice Coalition decided they needed a joyous event to end Transgender Awareness Week on a high note.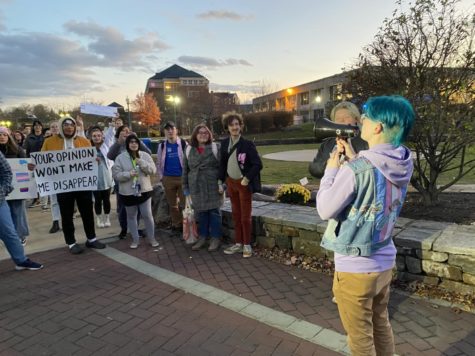 Transgender Awareness Week is a week long celebration leading up to Transgender Day of Remembrance on Nov. 20. It is observed from Nov. 13-19 with the purpose of uplifting positive stories of transgender people across the country, according to The Human Rights Campaign.
CCSU Student Cody Cody said members of the Transgender Justice Coalition have a Discord group chat where lately they've been communicating non-stop to organize events and promote visibility.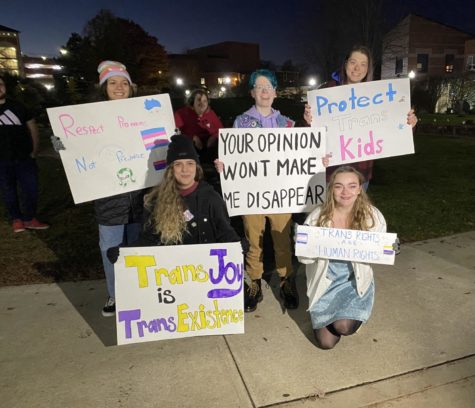 "We wake up in the morning and work on this," Cody said. "Then, we go to class and we come to the Pride office or we go home and we work on this."
Cody said all of them are constantly checking in for hours every day because they care.
He said they are all proud of who they are and really happy to be here — to be alive and to be going to college while trans, Place said.
"Everyone's invited who wants to have a good time and celebrate with us," Place said.
Mercado said they did not want to focus on Turning Point Club's event.
"It is Trans Awareness Week and we want to celebrate trans joy," Mercado said.
Pride Club Event Coordinator Nova LaPointe said they had to counter the hate seen in light of the screening.
"With the other event happening at the same time, we had to do something that was separate and we had to do something that was better," LaPointe said.