Controversy Arises at CCSU During Transgender Awareness Week
CCSU President Zulma Toro released a statement Wednesday addressing a scheduled on-campus watch party for "What Is A Woman?" — a controversial documentary that some activists and medical experts have called anti-transgender.
Toro said public universities can not ban events based on the perceived offensive or hateful ideas they espouse. She said a public university is required by law to ensure the rights of freedom of speech for all of its members.
CCSU student Lily Mercado said she found out about the film screening happening on campus and instantly began putting together the Transgender Justice Coalition.
"I think the event and the movie speaks for itself, but we are reframing it," Mercado said. "We are spreading joy over hate."
Mercado said the Transgender Justice Coalition organized their own event because they do not want to promote hate on campus and engage in hate themselves.
Mercado said they had materials at the event that shared information about the transgender experience beyond what she says is misinformation commonly heard. She said they gave handouts that provide facts as well as sources about what it is like to go through a transition and be a transgender person.
The group also gave transgender students a platform to speak during panels at the event, Mercado said.
CCSU student Cody Cody said he did not come out as transgender until the screening event was announced.
"As soon as this happened, I felt that it was important to be open about it so that I could help fight for other trans people," Cody said.
Cody said being trans was not just a private fact about him anymore, but it became political. He said he felt really happy about his decision because he feels the community he has found is "beautiful."
"This is about demonstrating to trans people on campus that we want them here, that this community is valuable and that they are valuable in it," Cody said.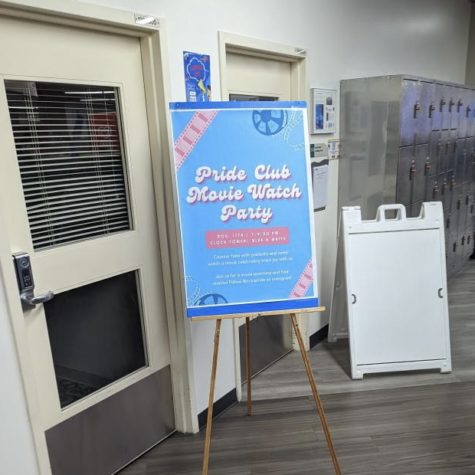 Pride Club's watch party was organized in response to the film screening held by Turning Point USA Club held. (Nova LaPointe)
Cody said they put on an event that showed trans people entering the cafeteria that they are loved and supported.
"That is what is important to us," Cody said. "It's about showing up for trans people and it's not about anything else."
Cody said this was never really a freedom of speech issue for the Coalition, but was about helping fellow trans students counter feelings of being abandoned or denigrated.
"It is something that formed in response to a transphobic situation, but the focus is not on countering the people who are forming that event," Cody said.
Pride Club President Myles Place said the group of students organizing the counter event changed their perspective from hoping to "cancel" the event to finding a way to create a place where they could be joyful in themselves.
"The knee jerk reaction was to call for a cancellation. It's in a very public area," Place said.
Pride Club Event Coordinator Nova LaPointe said she was shocked that the event was happening at Devil's Den.
Mercado said to reach out to them or other campus resources like the Student Wellness Center on campus and the Trans Helpline off campus if you feel unsafe.
Place said the LGBT Center is not an ideal resource at the moment due to its lack of full-time staffing.
"When you have an unsupported community on a campus, they're easier to target," LaPointe said.
She said that she feels the school has not given them any sort of compromise and that the queer community is unsupported by campus recourses.
"I think the fact that Toro and the rest of administration has let that happen is unforgivable," LaPointe said.
Mercado said various faculty have been supportive, but that response is separate from that of the administration.
"It's been a beautiful experience to see all this support and from faculty as well," Mercado said. "There's been a lot of faculty on this campus that have been very supportive of us and even instrumental in helping us plan for this."
Marcelina Halas, President of the CCSU chapter of Turning Point USA said screening this film is the club's constitutional right since they are at a public university.
"This is a space where everyone should feel comfortable expressing themselves and we have the right to do that," Halas said.
Halas said they chose not to back out because it would be a sign that the club was afraid of the message they wanted to show. She said they had already made a commitment to show the movie and wanted to demonstrate that they are firm in their beliefs.
The Turning Point club frequently comes out against what they see as the "radical left" movements. In their mission statement, they talk about free markets, free speech and limited government.
"I thought the president's statement was interesting,' Halas said. "She tackled the issue sort of in a partisan way."
Halas said Toro did not hide her own views on the topic, and so felt she had usurped her own role as head of the university.
"She does represent all the students here," Halas said. "She wants this to be a safe space for the trans students especially but there's also the conservative minority that she's representing."
Halas said her club members want to feel like they have the right to express themselves on campus and she thought the final resolution is to allow this to happen per state law.
"Free speech is important on a college campus to facilitate this exchange of ideas so that is commendable," Halas said.
Halas said this is a trending movie right now among conservatives and they simply put it to a vote among their members.
The Daily Wire, the platform the movie was released on, has produced various other documentaries. She said the club's decision was between this one and "The Greatest Lie Ever Told: George Floyd & the Rise of BLM" by Candace Owens.
"I might not agree with the ideology being pushed by the trans community but we all should be able to express our beliefs and not try to shut other people down just because we do not agree with them," Halas said.
Halas said this movie exposes what she feels are logical inconsistencies of those who support transgender people. "Gender is based on your sex and what you're made up of," Halas said. "Females have XX chromosomes and males have XY chromosomes."
Halas said if your body is found hundreds of years later by archeologists, they will determine if you are male or female by looking at your bones. She said she believes that transitioning is a personal choice, but that there will be potential mental health effects of that decision.
"I'm not saying it's not going to be harmful and there's not going to be those side effects," Halas said.
Turning Point Club's Faculty Advisor, Jay Bergman, said all opinions at universities should be entertained.
Bergman said students should have access to unpopular opinions as well as popular ones and the purpose of going to college is to be exposed to different points of view.
"You should go to college precisely to be exposed to ideas you haven't encountered or you may find different from your own," Bergman said. "You should have an open mind."
Bergman said he believes that gender and sex is not something you can simply change by changing your mind.
"It seems to me that women have a certain chromosomal make up and men have a different one," Bergman said.
Bergman said he would tell those who are transitioning or considering transitioning to think seriously about the consequences in doing so.
"Some of these changes are irreversible," Bergman said. "There's a number of transgender individuals who have come to regret it."
Bergman also said that transgender people should be judged as individuals and should not be favored or disfavored for their particular identities.
"I'm a conservative but not I would like to think, a mindless one," Bergman said.