Baby Yoda Sneaks Onto Campus
One of Central Connecticut's newest students is small, green and … a baby?
A toy version of Baby Yoda from the Disney Plus show "The Mandalorian" is the main subject of an Instagram account called @ccsu_babyyoda. Baby Yoda, also known as "The Child," is photographed across campus while searching for their "snackie snack," which is a frog.
"I haven't eaten my favorite snack since I got here," Baby Yoda said in an interview. "I normally stalk the pond but sometimes my friends bring back food from the dining hall."
On September 13, Baby Yoda made his first public appearance on CCSU's campus, posting a photo on his Instagram. The tiny, green cutie posed on the arm of the big blue chair outside of the Student Center.
When asked why Baby Yoda chose CCSU of all the universities on earth he said, "This is my home. I was brought here and enjoy the campus and events, as well as some special friends I've met along the way."
In regards to starting the Instagram account Baby Yoda said he joined social media in an effort to make these trying times a little better.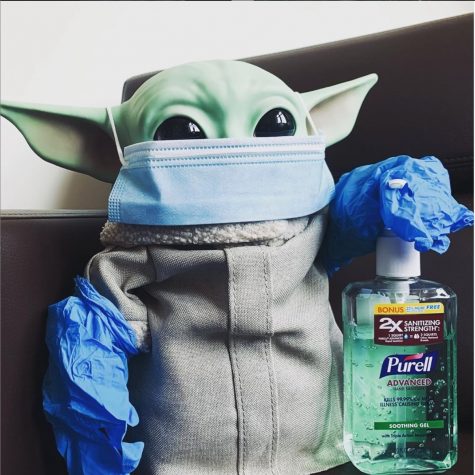 "My favorite part of my Instagram account is watching it gain followers and seeing the positive comments I get," Baby Yoda said. "I love replying to fans."
Speaking of fans, Baby Yoda has amassed over 400 followers and frequently receives positive comments on his posts.
"It's crazy to think 400 people have an interest in little me," he admitted. "I started for fun and after a few weeks it took off. I didn't think I would have a following this fast and it's nice hearing people talk about me, as they wonder who is helping behind the camera."
Baby Yoda has gained a high level of notoriety amongst the campus community. Just ten days after Baby Yoda's first Instagram post, he was featured as a special guest at a Kahoot game for the Actuarial Club; graphics promoting the event featured a large photo of him.
"I've met with some clubs, been to a few events and now can add being interviewed to my list of fun," Baby Yoda shared.
In addition to the collaboration with the Actuarial Club, Baby Yoda has been pictured with merchandise from the Gerontology Club and C.A.N.
Despite being so well-versed in campus culture, the creator of the @ccsu_babyyoda account remains a mystery but Baby Yoda said they enjoy being unseen.
"I like to be sneaky and I think it's funny nobody has seen me in person before, besides some very special friends," he added.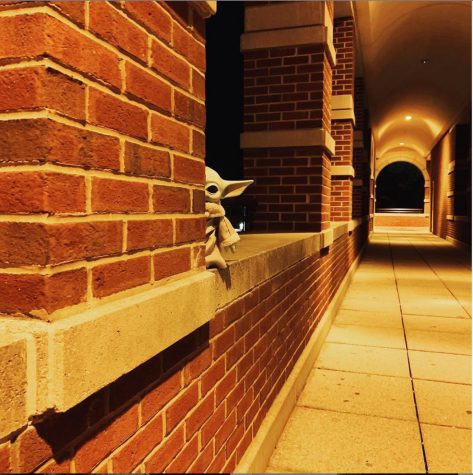 Despite not wanting to be seen, Baby Yoda posts photos of himself all around campus.
"Campus is fun for pictures," Baby Yoda said. "My favorite place to be is the top of Welte Garage because it has lots of art for me to take pictures with."
"Thank you everyone for following me and I hope you have laughed at least once. Where should I go next and when should I [reveal] my friends that help me? If you're not following yet, join me on my adventures @ccsu_babyyoda," he answered when asked if he had any words to share with his fans.