A Peruvian Meal For A Florida Gal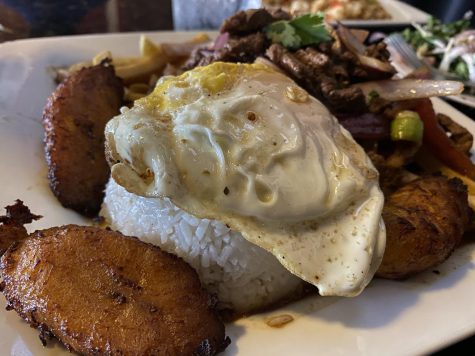 There is nothing like a good food journey, especially when you are starving. Google must have gotten tired of me disinterestedly scrolling because soon there was on option 0.3 miles away, with a 4-star rating: "Taste of Peru."
I've had many cultural foods in my life but Peruvian was never one of them. My interest? Peaked. Taste buds? Excited.
Eager to find my new conquest, I hopped into my jet black Chevy and ended up right around the corner; where I noticed in the grey painted plaza and the three bold words in all white – Taste of Peru.
The restaurants door was decorated with their schedule and catering availability but they were smart because the windows to the establishment were completely tinted.
I had only one option: go in.
"Just two?" the waitress asked.
"Yes."
"Any table you'd like," her accent dominated her English.
Though smaller than I was expecting, the black square tables were spread out enough for six-foot distances but not far enough for me to ignore the foreign flavors that seeped through my mask as we made our way to our desired corner table.
The waitress came over to our table with water and lime while we looked over the menu's that were already placed in front of us.
"Do you know what you'd like?" she asked.
I have a terrible habit of not knowing what I want when I'm presented with too many delicious options, so much so it took me about ten minutes to actually order anything.
It wasn't until I saw our waitress elegantly carry out a peculiar meal on her right hand; the sweet smell of plantains grazed the air as she walked and I watched as the generously portioned plate was placed right in front the woman's bouncing eyes.
"¡Mi favorita! [my favorite]" she proclaimed in Spanish to her family of seven.
I couldn't help but to order it.
The sunny-side-up egg laid perfectly on top of the white rice caught my eye. Suddenly, there was nothing else that my mind and stomach had a craving for except "churrasco a lo probre," which is directly translated as "barbecue to the poor."
Nothing is poor about it; the plantains fried with the right amount of external crunch and savory-sweet finish, while the black Angus skirt steak is chopped just right, flavored with onions coupled with a mysteriously delicious, brown sauce that leaves a melting sensation on the tongue with every bite.
Now, the two surprises for me were the sunny-side-up egg that was cooked just enough so there was no yolk. My fork went straight through the egg and into the tower of white rice, that had enough moisture to compliment the slight saltiness of the egg. And oh, the french fries underneath everything else!
Yes, french fries. I was skeptical at first too, but they were a crucial ending to the meal and its deliciousness. They absorbed all of the flavors that were above them and mixed them all into one forkful — iconic.
"Taste Of Peru," located in Orlando, Florida, is an exquisite restaurant specialized in Peruvian culture. There was nothing like being able to experience a piece of their language, their world and their food. I have no choice but to return again; it was a meal worth more than the mere $20 I paid.