An Amazonian Delivery: Riding Shotgun With An Essential Worker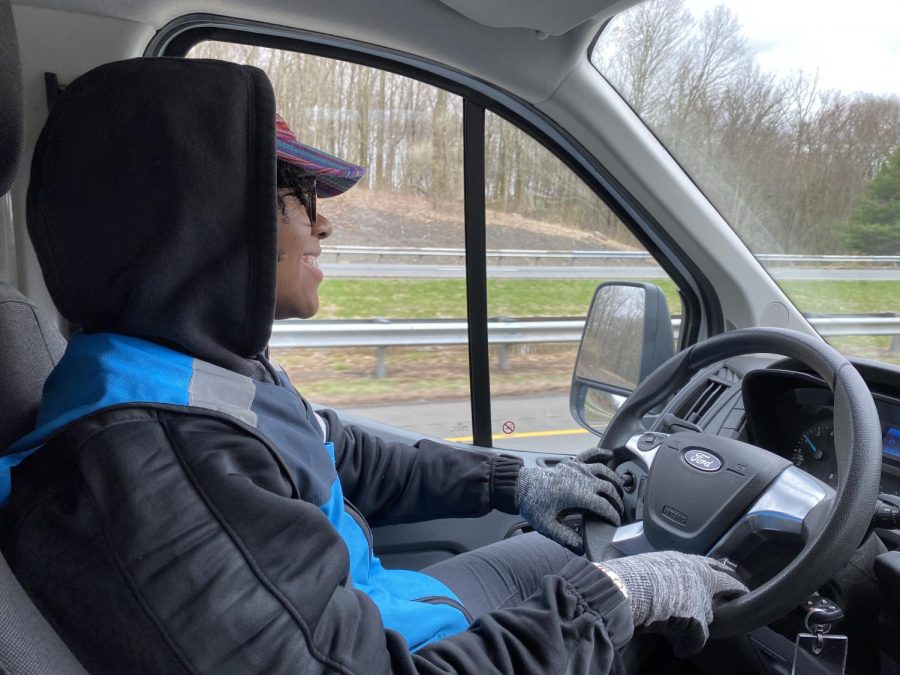 "Welcome to the life," Sydney Craig said as she pulled into the gravel employee lot at the brisk of dawn, opening the passenger door for me to hop inside Amazon's white Ford quickly.
"We have 183 packages today, so, clearly, we're not getting out of here early," she joked.
The back of the van is filled to the brim with yellow and black three-foot-wide plastic crates the company calls "totes," which groups the day's deliveries. The packages are organized alphabetically by the zones' zip codes and labeled with correlating stickers [A through E]. At the same time, large orders of bounty paper towels, kids bicycles and headphones peaked through the crevices of boxes.
"The route today isn't my usual, we're heading 40 minutes out to East Hampton."
Craig places her pencil case of travel sanitizer on the dash, hooks up her Amazon delivery phone and cues Rufus & Chaka Khan's infamous "Sweet Thing" while eating her homemade bacon, egg and cheese on a cinnamon raisin bagel as the sun began to rise. The van eases onto state road 74.
"You wouldn't believe how many people are actually waiting to receive their packages this early," Craig said as her head bops to the music emphasizing her retro striped cap. She nods and makes quick eye contact with me – "Yes, at seven in the morning."
As Craig takes a right turn, she passes a burgundy sign reading "Welcome to East Hampton," and the repetitive maple syrup farms; she turns into a high-end cul-de-sac. She pulls over, grabs her Amazon android, hops out and opens the double doors on the left-hand side and scans the bar-code of three packages.
"This is our first stop!"
Craig troops through the walkway in her grey pants, clutching the packages in one hand and the phone in her other. Standing at just 5'2, the rain happily greets her as she makes it to the door.
She gently places the packages at the front door where the customer has requested. Stands back, takes a picture for proof of delivery, swipes "Finish" on her device and is given her next destination that so happened to be two minutes away at a two-story home painted with a blue-eyed dancing monkey right out front.
The hopping in and out cycle continues for 20 minutes until Craig backs into a driveway; dropping off a box of Maxwell House coffee to a home resembling a tree-house with the roof of a hut. Skipping back enthusiastically,"Alright! first tote done!"
Driving five minutes out to the next destination in East Hampton, Craig pulls over into a non-housing area full of trees and begins to organize the packages in the totes by the zones labeled with the correlating sticker [B]; writing the number of the house with her black Expo marker that she keeps in her blue vest pocket.
As the sounds of juggling boxes quiets down, an overwhelming faucet of water begins to ring louder than the droplets of rain. With a quick neck turn, there's Craig squatted in the middle of nature, taking a bathroom break with the doors of the open van blocking any possible pedestrian view.
Amazon drivers are permitted only one thirty-minute break and two fifteen-minute breaks that are "not convenient or effective" when working ten-hour shifts regularly and being held to timely delivery standards.
According to Business Insider , other Amazon drivers have even admitted to urinating in "bottles, bags or outside to save time on the road." Some women shared they've "brought buckets and baby wipes to work so they could go to the bathroom in the trucks."
The coronavirus shelter-in-place orders has opened the world's eyes to what it means to be an essential worker. Workers, often taken for granted, are risking their lives on the front lines. This includes grocery workers, mailmen, ride-share, transit and delivery drivers.
With the pandemic reaching nearly six million in the U.S. and millions still filing for weekly unemployment, Amazon still hasn't wrapped itself around people testing positive in over 70 of their facilities.
The billion-dollar company may be violating labor laws as well as not taking safety precautions after NPR released information of the company unrightfully laying off protest leaders to "send a threatening message to other employees that they should also keep quiet about any health and safety concerns."
Even Craig's Bristol branch laid off "almost half the company [twenty workers]" through a text message. Branch management took nearly four weeks to accommodate the facility properly yet social distancing markers were not implemented and gloves, masks and sanitizer had to be self-provided — which a mass production company like 'the everything store' [Amazon] could have easily provided.
While some changes have been made, such as indoor temperature taking stations, Craig admits that "a lot of workers began to skip to get to the vans outside."
Luckily, there haven't been any confirmed cases in the Bristol branch. However, Amazon is still neglecting the high possibility of contraction through essential equipment, like their community phones, chargers, keys, accessories and the vans.
"It's not worth it, we aren't properly compensated for the effort we put in and our health that is being sacrificed for $16 an hour – no one deserves this Jeff Bezos," Craig said.
Despite her employer's shortcomings, Craig still makes her six in the morning shifts "the best," by listening to the gospel hit "The Best Is Yet To Come" by Donald Lawrence & The Tri-City singers to get her mind right. For Craig, there is one thing that seems to triumph all odds: the customers.
"I've never felt such sincere gratitude for just delivering their packages, the smiles on their faces when I'm walking to their door and let's not get started on their "Thank You" baskets filled with some of my favorites: M&M's, Kind Bars and Bai Tea," Craig gushed.
After finishing her last tote of the day around 1:30p.m. , Craig decided to "gas up" and then take her thirty minute break. As she sat in the driver's seat eating her Great Value canned pineapples, she reflected on all the wild dogs she's had to dodge while delivering, how many telephone poles she's hit trying to reverse the van and her infamous bathroom breaks in unspeakable places.
"I mean, I don't know too many people who bring canned fruit to work for other purposes, not excluding bowel movements," she added.
Her pearly whites shined in laughter as her gloved hand shifts the van from park to reverse.
"Alright! We've had enough Amazon for the day, let's go home!"
UPDATE: Since the writing of this story, Sydney Craig's Amazon branch has now been closed. She is become another one of the millions filing for unemployment.