Young Siblings Seek Out Inclusion In Children's Stories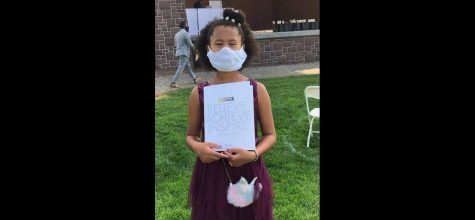 Nine-year-old Mariah Cubano and five-year-old Tyshawn "Ty Ty" Yopp are fundraising to include more storybooks in schools and community organizations that feature black characters.
"Our main goal is to make having kids' books of color part of the norm in every school," Cubano said.
The inspiration for the siblings' fundraiser was first ignited after Cubano went to Barnes & Noble with her parents.
"I saw a beautiful display of books with black girls on the front of them and I was so excited to see them," she said. "When I went to school, I didn't see this. I asked my mother why and she really couldn't answer because she said that when she was growing up, they didn't have books with black characters either."
The lack of diversity in books in the school district led Cubano, Yopp, their mother Melody Cubano and kindergarten teacher Carrie G. Clarke, to collaborate in creating a fundraiser called "Black Characters Matter."
"We first discussed the issue when I shared a story of how I grew up in a town with no diversity," Clarke said. "I wanted to make sure my classroom library was filled with books that had characters of color."
From there, young Cubano developed the idea to sell Black Lives Matter bookmarks in order to raise money to support the cause, an idea inspired from the bookmarks she made for her own classmates.
The family has made a wish list on Amazon of the books they would like to purchase and donate to school libraries. Mariah and Tyshawn have even met some of the authors of the children's books on the list.
"I have met a couple of authors that wrote the books, like the author June Archer, who wrote the book 'Yes, You can!'" Tyshawn said. "He is an inspiration for me."
One of the books on the list has a special place in Melody Cubano's heart.
"One of my favorite books on our Amazon wish list is 'I Am Enough' by Grace Byers," Melody said. "I teach my children and the girls from my 'Love You First' group that they are enough as they are."
Melody believes that books can have a huge influence on children's self-esteem as well.
"I do believe reading books that represents them does positively influence their self-esteem because it reminds them that they can do [anything] too," Melody said.
Her children have gotten a chance to host their own booths at seven different events where they were able to talk about their fundraiser. While also selling their Black Lives Matter bookmarks and necklaces with their donations, the children have also participated in marches and have even gave speeches at some events.
Some of which include the CT Peace Fest at Walnut Hill and Hartford State Parks, CT For Change in Danbury, 1,000 Women March, Melanated Queens for Black Lives Matter at the State Capitol, Movin' 2 Educate and Brandon McGee Get Out and Vote in Hartford.
Their most recent event was the 100 Women of Color Event in Simsbury on Friday, Aug. 28. where young Cubano was a part of the line-up to speak.
Participating in these events has led the young siblings to receive a Special Recognition Certificate from Congresswoman Jahana Hayes and they have received donations from New Britain Mayor Erin E. Stewart, who has publicly shared her support for their fundraiser on social media. Their fundraiser has also received donations from NFL Houston Texans player Kenny Stills, who has a foundation called "Still Growing" that empowers under-resourced communities.
Melody says that even though her children's fundraiser has gotten a tremendous amount of donations, it will continue even after the goal is met.
"To date, we have over 450 books, 160 different titles, $7,539 on the GoFundMe and over $1,400 in additional donations," Melody stated. "This journey for us will not end, it began as working on purchasing books for our school library but it has now become our mission to provide as many books for schools throughout Connecticut."