Jake Dolegala's Road To NFL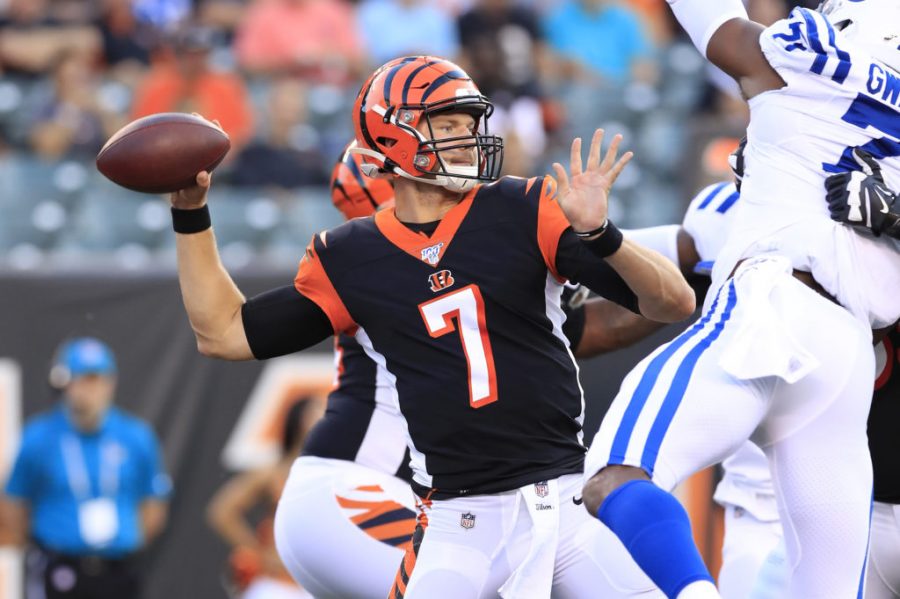 After impressing during the preseason, former Central Connecticut quarterback Jake Dolegala was informed that his life-long dream was coming true when he made the Cincinnati Bengals 53-man roster.
Flash forward into September, a week into the NFL regular season, Dolegala has shown enough promise to garner raving reviews from people within the Bengals organization such as scout Andrew Johnson.
"We kept him for a reason, we're keeping him to develop him and we'll see where that goes," Johnson said. "The kids got a very bright future for us and we're hoping he can contribute for us one day."
Johnson is the Bengals scout in charge of the Northeast area for the team and is very familiar with Dolegala's career at CCSU.
"The things that he does well, you cant teach. You can't teach size, you can't teach arm strength, you cant teach a quick release," Johnson said. "He has real natural throwing ability for a quarterback. I'm really really excited we got him here, he's an awesome kid and he's doing a great job for us."
"From day one, he was one of the guys that put his head down and goes to work and what Jake brings is an excellent work ethic, an awesome attitude, he's an absolute pleasure to have in the building," Johnson continued.
Dolegala's Central career concluded with him sitting atop the all-time ranks in passing yards (8,129) and touchdowns (48) in school history.
Playing for the Blue Devils was worthwhile for Dolegala, he would tell you, "Central is a great school, it's got a great football program there," but would also agree that "it didn't help to be in an Football Championship Subdivision school" in the draft process.
When evaluating Dolegala, Johnson admitted the level of competition was a tough thing to evaluate.
"I think the team struggled at times, Jake was under pressure quite a bit and I think the receiving core dropped a good amount of passes," Johnson said. "He didn't get a lot of help, but coaches did a good job getting the ball out quickly and allowing him to create plays."
Even at the FCS level and through the struggles, Johnson still noticed one of Dolegala's biggest strengths and even believed "he was good enough to be an FBS Power Five Conference player."
"The thing with Jake is that he's got real, real, real, arm strength, that's what I saw on tape but you really only saw it once or twice a game at Central," Johnson said.
Seeing those plays here and there at Central is what "peaked" Johnson's interest in the 6-foot-7-inch quarterback. His interest only increased after attending Dolegala's Pro Day.
"That's when I really bumped up his grade, it was special," Johnson admitted. "It was like hearing a pitcher's fastballs pop off the catcher's glove, that's what it sounded like when the ball hit the receiver's hands. It was special."
On a day that "every team was represented," according to Johnson. It seemed that every scout there was present for the Buffalo University players.
"Everyone was there for [former Buffalo quarterback] Tyree Jackson and he struggled throwing the ball that day," Johnson said. "Every NFL team was represented there because of Buffalo's players and then there this tall drink of water from Central Connecticut State who is stealing the show."
In many people's eyes, the Pro Day is where Dolegala really made his money and impressed scouts in part because he looked better than a higher-touted QB.
However, Dolegala did not look at it as a competition.
"It wasn't a competition between me and him, I wasn't comparing myself to him. I was just trying to show scouts what I can do," Dolegala said.
Showing people what he can do seemed to be a reappearing theme in Dolegala's road to making an NFL roster, it was his goal no matter what stage of the process he was on.
After not receiving many reps in rookie mini camp, Dolegala received a full day's worth of reps to run the offense on the very last day.
"It was a good day, I finally got an opportunity to get a couple of reps and I think I showed these coaches a little bit of my ability and from there I think I continued that momentum into summer and I was in my playbook, training hard and just ran with my opportunity," Dolegala shared.
According to Benglas.com, Dolegala "was given the opportunity to direct four offensive drives and went 12-for-17 with touchdown passes to Cody Core, Trayveon Williams, and Josh Malone."
A performance that also impressed Pro-Bowl running back Joe Mixon. "That boy looked good," Mixon said via Bengals.com. "I like him. He's nice."
In training camp, Dolegala once again did not receive many reps despite his minicamp performance.
"He didn't get a ton of reps in the spring. We drafted a QB in the 4th round [Ryan Finley], we had Andy [Dalton] and our backup Jeff [Driskel]," Johnson said.
"Jake had to be patient and wait for his opportunity, which came in the third and fourth preseason games. But I think when he got his opportunities in the last couple games, he took hold of it."
Playing in the team's last two preseason games, Dolegala finished 37 of 53 (69.8%) for 347 yards (6.5 AVG) and two touchdowns.
"What I saw in college and at the Pro Day showed up in the preseason," Johnson said. "Good feet, excellent size, excellent arm strength, a very natural throwing motion and a good feel for the game."
Dolegala definitely believes he is on the roster partly due to showing his abilities in the final two preseason games, telling Bengals.com, "it was great, I think I left it all out there on the field," but he is also thankful for the mentors who taught him along the way.
"I had two really good mentors in Andy [Dalton] and Jeff [Driskel] so kudos to them for being such good role models," Dolegala said.
"They've helped with things like answering questions about certain defenses or some checks we have to make and things like that."
Going forward, Dolegala is also going to benefit from being in the same meeting room as fellow rookie Ryan Finley, according to Johnson.
"Ryan is very, very smart, goes through progressions really well, sees the field really well and I think they're going to complement each other well in the meeting room."
Despite making the opening day 53-man roster, Dolegala understands his spot on the team isn't guaranteed.
"I have to stay patient but there are always things to improve on," Dolegala said. "The speed of the game is obviously different than what it was at Central, the defensive looks are a lot different and I think film study is always important as a quarterback and that will never stop throughout my career."
Johnson feels that while Dolegala has all the physical tools, his mental game is going to have to catch up if he hopes to sustain a long NFL career.
"I think the mental part of the game is still a work in progress for him because its a totally different deal than what he was doing at Central," said Johnson.
To make the NFL and sustain a career in the NFL, a player needs rare attributes, according to Johnson. He feels that Dolegala has everything from the size, unteachable skills and the drive to be there, which could lead the former Central product to a long NFL career.