Piper Looks Back On Season, Hopeful For Future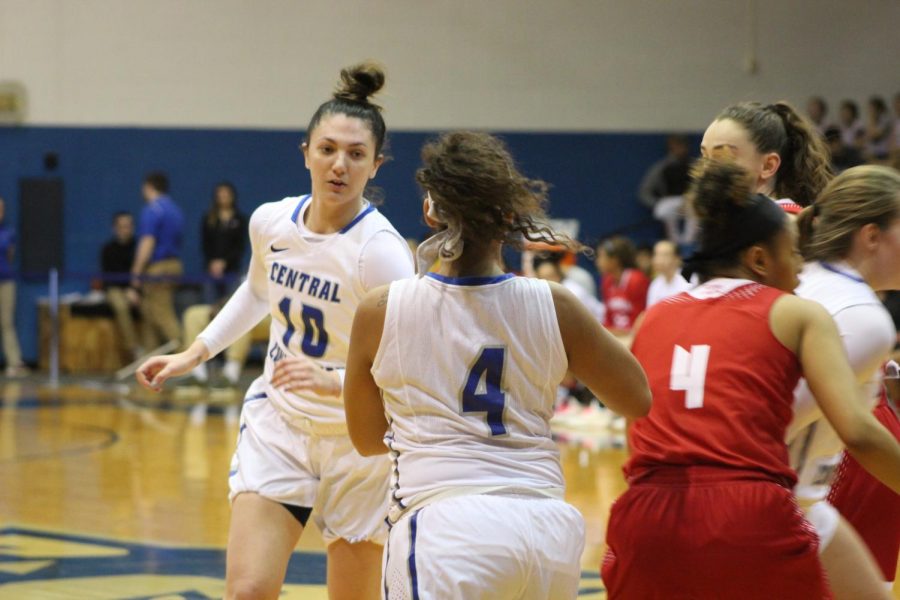 Patrick Gustavson, Sports Editor
March 19, 2019
The 2018-2019 season looked to be a hopeful one for Central Connecticut's women's basketball team, with a large portion of their core returning from the season before.
Despite many strong performances throughout the season, they were unable to gain enough traction to return to the Northeast Conference tournament.
Head coach Beryl Piper said a large portion of her teams' struggles came on the offensive side of the ball.
"I just think we struggled scoring. We just didn't consistently have the scoring that we needed throughout the season," Piper said.
She also said the team lacked multiple players consistently scoring outside of standout senior guard Kiana Patterson.
It was also long scoring droughts that did the Blue Devils in, leading to them playing from behind often.
"Usually, we would play really tough on defense and offensively, we would have five minutes where we didn't score, then we'd be battling," Piper said. "That was our biggest things all year, having that period of time where we couldn't score and then battling out of it."
This flatness plagued the Blue Devils often this season, including their season-finale loss against Saint Francis (BKN).
"To start the game, we were so flat. We couldn't keep anyone in front of us. It was crazy," Piper said.
The team will move on next year without a trio of four-year players in Patterson, forward Andi Lydon and guard Sydney Hines.
Piper said one of the biggest voids that will be left by the group is their leadership.
"Those three kids, from a coaches' point of view, you can't ask for more in how they represented themselves as basketball players, but as people in the community, at school, in the classroom," Piper said. "They're really good kids, they work hard, they do everything we ask of them. We're going to miss that leadership and hope that kind of leadership carries over."
But on the court, the trio also leaves behind 29.7 points per game. Sophomore center Ashley Berube thrived offensively in her second season, averaging just under 10 points per game, a massive jump from the 2.6 points she averaged her freshman season.
Despite the offensive improvement, Piper said the Berube will have to improve on defense in her junior season.
In addition to incoming recruits, Piper believes a trio of freshmen who did not see a lot of time in their first season could help fill the void vacated by their seniors.
Danielle Delano only appeared in 14 games on the season, but Piper believes she has a role next season.
"The kid can shoot the ball; she can handle the ball. I think she can do some things for us," Piper said of Delano. "She just has to work on being a better defensive player."
Piper said freshman center Carly Reynolds will need to have the opposite improvement.
"As a post player, she is very agile. Defensively, she can move, so now she just has to finish around the basket because she's quick. She's got quick feet," Piper said.
Piper also listed guard Forever Toppin as a contributor due to her length as lankiness at her position.
"They have to grow, they have to work over the summer. We can work with them, but they have to want it," Piper said of the young players' development.
Those returning Blue Devils, in addition to newcomers, will look to return to the NEC tournament, and more, next season.