OPINION: Ye is Going Scorched Earth on His Career, But Why?
Why would someone who has had 107 singles in the Billboard Top 100 as a solo and feature artist, a multi-billion dollar clothing brand and was known once as the richest Black man in the United States, want to sabotage the legacy he has built? Ye (formerly known as Kanye West), has always been the center of controversy in his career. Since his comments in 2005 about George Bush not caring about Black people, to his rant in the middle of the 2009 VMA Awards as Taylor Swift was receiving her award, to his 2018 comment about slavery being a choice, not to mention the Yeezy Fashion show in early October, where the infamous "White Lives Matter" shirt made its debut, Ye has never been camera shy.
In his latest act of controversy, it seems like he is attempting to do something that he will never be able to come back from. On Oct. 8, Ye took to Twitter to disclose his true feelings for the Jewish people and their community.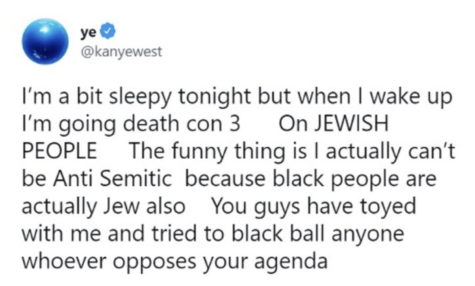 "When I wake up I'm going death con 3 on JEWISH PEOPLE," Ye wrote. "You guys have toyed with me and tried to black ball anyone whoever opposes your agenda."
While some people were shocked by his blatant attack on the Jewish people, it is well known that Ye is a devout Catholic. Songs like "Jesus Walks," from his debut album "The College Dropout," to nearly every song off of his latest two albums titled "Jesus is King" and "Donda" (titled after his late mother of the same name), all have themes of a deep and radical Christian faith. In 2018, after he was hospitalized with bipolar disorder, he created the Sunday Service Choir. This was a collective of choir singers who would perform songs of worship with Ye as he toured different cities across the United States, Europe and Africa. He has talked about giving his life to God and worshiping Jesus Christ on many occasions.
"I'm not an industry bro…" Ye tweeted. "I'm always in service to Christ."
When Ye published his original "death con" tweet, his twitter account was suspended as a result. This was followed by a decrease in the streams of his music, according to Billboard, in addition to numerous celebrities speaking out against his comments and behaviors. One of the main celebrities caught in the crossfire was Kim Kardashian, Ye's ex-wife.
"Hate speech is never OK or excusable," Kardashian said in a statement on social media. "I stand together with the Jewish community and call on the terrible violence and hateful rhetoric towards them to come to an immediate end."
Companies such as Balenciaga, Adidas, Gap and Foot Locker, among others, have either distanced themselves from Ye or completely terminated all collaborations and contracts they had with him. This caused Ye to lose his billionaire status, as those contracts made up a large percentage of his net worth.
So why does Ye continue to do interviews with people like Alex Jones and spew his agenda about Jewish people in America? Many people have taken to social media to express their reasons for why Ye continues to double down and doesn't care that his legacy is forever tarnished. American author Scott Adams said it best in a recent video he put out in response to the "Infowars" interview that Ye did with known far-right radio show host and conspiracy theorist Alex Jones. He was accompanied by white nationalist, Nick Fuentes, who has seemingly taken the position of Ye's right hand man.
"Ye is not trying to make us like him…or agree Hitler is a good guy," Adams said. "He found the one thing he is least allowed to say, and he said it. He is the only free man in the country."
He continued on by referring to Ye's divorce from Kim Kardashian. After the two split, Ye claimed he had "lost his family," and that he had "lost his kids," due to the fact that Kardashian had 80% custody of their children.
What we are looking at now is a man who has absolutely nothing left to lose. He lost his contracts, his wife, his kids and his best friend, Virgil Abloh. Ye feels as though he has been controlled his entire career, and now he is speaking for himself. He knows that people hate him, and he knows that everything that has come out of his mouth in the past couple of weeks will tarnish the grand legacy he has built. There is an old song from the late Janis Joplin, in which she says, "Freedom's just another word for nothing left to lose." Ye is living his life as a man with nothing left to fight for and nothing left to lose. As mentioned before, he knows that his platform allows him to say whatever he pleases, and he has no issues with the consequences of his actions.
It is yet to be seen what the true ending of this saga will look like. Fans of Ye will continue to look for an escape and a happy ending from this bad dream. There is no such happy ending in sight. In the end, it seems like we will simply remember the artist formerly known as Kanye West as a brilliant musician and fashion designer, who tarnished his legacy in pursuit of what he believed to be his true freedom.
In October, Ye was featured in a song by Sean Leon titled, "Burn Everything." He sings the chorus, "burn everything, like gasoline." After the recent interviews and comments, this chorus now has a haunting and terrifying meaning to it, as it is Ye saying that he has burned everything that he has worked for, and he can never recover from it.