Book Review: 'The Vermilion Emporium' Is Worth the Read
Jamie Pacto's "The Vermilion Emporium" is a magically alluring fantasy young adult novel. It follows Quinta and Twain in the fictional city of Severon.
The pair meet at the titular Vermilion Emporium seeking answers about their world's most prized relic, starlight, and the lace that would be made from it. Over the course of the book, they start to unravel the secrets of starlight and why it disappeared from the world.
The pair make lace with starlight they find and are conscripted to make more by a powerful person, but things go awry for both of them, as Twain has to confront enemies from his past and dangerous people seek out Quinta for her skills. Quinta and Twain work hard to overcome the obstacles in their way and find new happiness with each other.
One of the main things that I found most compelling about this book was the in-depth worldbuilding that Pacton put in. The city of Severon has a distinct Victorian atmosphere mixed with fantasy that flows well.
The descriptions of Severon paint the city into your mind and make you feel like you are there without actually being there. And then there's the magic of starlight. I enjoyed reading about the appearance of starlight and the various things made of starlight that the characters encounter and make themselves.
Pacton said in the book talk that she wanted the magic to be nebulous, but powerful and have a delicate feel. And I feel that she accomplished this well by making the magic come from lace. It has a real mystical and tangible feel to it, allowing you to clearly understand the magic that starlight possesses and does for those with starlight lace. But all magic has a price.
In a book talk hosted by Wesleyan RJ Julia bookstore the day before the book was published, Pacton described how two of her main inspirations for the plot of the book were the historical fact that Venetian lacemakers had often been kidnapped from their home and the tragic story of the Radium Girls. Both of these elements are heavily present in the book. I was admittedly more anxious about the Radium Girls element, as I knew the story beforehand. I figured that something about the starlight was going to have adverse effects on the people who encounter it.
Just like the actual Radium Girls and the clocks they painted, the lacemakers in this book are horribly affected by the process of creating the starlight lace, while those who use and wear the lace do not suffer at all. It is an incredibly poignant part of the story and such a tribute to the tragedy of the Radium Girls.
The characters of Quinta and Twain are a pair of very interesting people and as Pacton described them in the book talk, "broken and used to it." Twain is still grappling with the death of his brother and trying to find his way in the world, while Quinta longs to find the mysterious Vermilion Emporium to get answers on what her mother discovered and deal with her issues on personal relationships. When they first meet, Twain puts on a charming attitude towards Quinta, which helps to endear him to the reader while hiding how much he hurts. Quinta also puts on a façade, but hers is a sourer demeanor to protect herself from getting hurt.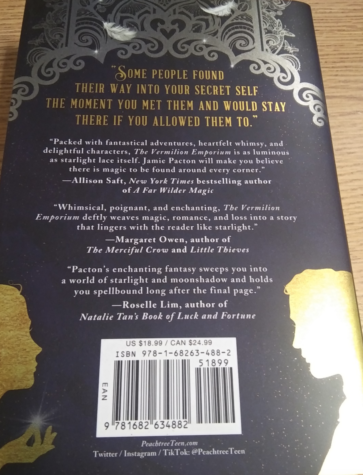 Even as they grow closer, there is still a bit of a distance as a result of Quinta's self-proclaimed behavior that "I always leave the people I sleep with." That tension is added to by Twain's plans to leave Severon. For a good part of the book, there's uncertainty for both of them as to what they will do.
They both are well-developed characters who can be emphasized and understood at all times and are just a lot of fun to see their arcs play out.
A big part of the book's plot is the relationship between Quinta and Twain. It is a bit sappy and Hallmark as it begins with the "love at first sight" cliché, but shouldn't be a deterrent for reading this book. There is an undeniable tenderness between these two as the two carry out a slow burn, will-they-won't-they dynamic, despite being very attracted to each other.
They both start out with different plans in mind for their future which has them question whether or not they want to be together. And then they are separated for quite a bit of time, making them long for each other even more. The reunion is a wonderful and relieving thing to see happen and it is clear that the absence of each other has made their hearts grow fonder.
At the end of the story, they do not know where life is going to take them, but they know that whatever happens, they will do it together. For the most part, the relationship between Quinta and Twain is an enjoyable experience.
Overall, "The Vermilion Emporium" is a wonderful new read. It is one of my favorite books of this year and among my favorite books that I've ever read. It is a great read and I highly recommend it to anyone who likes fantasy realism and romance.