Opinion: Halal Should be the Standard
Central Connecticut State University has catered to its Muslim population by providing a halal chicken option, and other higher education institutions should follow in their footsteps.
The CCSU Muslim Students Association (MSA) created a Google Form to show Sodexo the demand for halal meal options on campus. 55 students filled out that form — a collective response that led CCSU to offer halal chicken at Memorial Hall.
Halal is a way meat is prepared to allow consumption under Islamic dietary guidelines. Certified halal is the most humane process for killing an animal. The animal must be alive and healthy at the time of slaughter. A Muslim also says a blessing and does it by hand rather than by machine, which is common throughout the United States. Pigs and reptiles are forbidden for consumption under Islamic law. I may be biased as a Muslim myself, but let's see what Jonathan "Jon" Small, General Manager of Sodexo at CCSU, has to say about the new option.
"It's very good," Small said. "My employees think it's so much better and maybe it is."
Small said someone will not notice a change in taste and halal chicken is not that much different than regular chicken.
Memorial Hall is one of the two dining locations on campus and offers a variety of stations that accommodate any taste or diet. Sodexo stood by its word by increasing the food options for Muslim students at Central. CCSU residents are required to purchase a meal plan, so the university should provide reasonable religious accommodations for students, faculty, and staff.
Memorial Hall has a Simple Servings station, which is tailored to avoid the seven main allergens, as well as a vegan station in the main service area. In my experience, halal is not taken as seriously as allergies to the point where restaurant employees get irritated when asked to change gloves or clean equipment. I'm glad to see my halal diet being represented at this dining hall which will increase awareness about Muslim presence on campus and teach students about Islam.
Before halal chicken was offered, Muslim students could only eat vegetarian options and seafood on campus. Sysco is the company that is sourcing chicken breasts and chicken thighs. Sysco is Sodexo's main purveyor whom they have a contract with to purchase meat safely.
Unfortunately, supply chain issues are making it difficult to switch over all of their chicken to halal. Small said they decided to mark stations with a halal symbol so that students can be certain.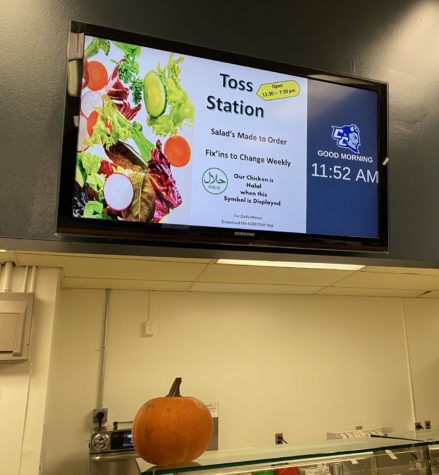 Small said he knows how hard it is for his Muslim friends to find halal meat in this country. He said the chicken at the salad bar is always halal and hopes he can purchase it consistently so this program can grow. He said the new Muslim chef, Khalid Qatabi, will share his recipes since students do enjoy international flavors and trying new foods.
"I'm so happy to see halal food here because I'm working all day and I don't eat any of the meat," Qatabi said.
Qatari said there's cross-contamination at other stations which leaves fewer options for him. He said he hasn't seen halal options before in other places he's worked in.
"I'm always looking for ways to improve satisfaction with the students," Small said. "We make changes based a lot on student demand or requests so we're always looking for ideas if you have any."
MSA Treasurer Rana Naimat led this initiative and gives credit to the rest of the association's executive board for helping him make this change happen. Other colleges and universities look up to CCSU for expanding their meal options and will work to implement this initiative in the future.
Editor's Note: The writer of this story is the president of the Muslim Student Association.