This Week in Football: CCSU vs. LIU Preview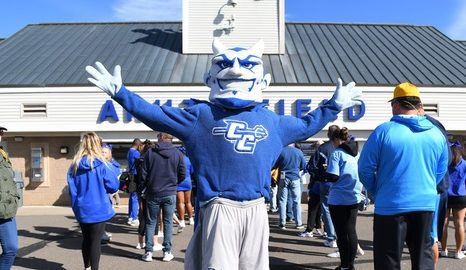 Coming off 34-7 victory against conference rival Wagner University, the Central Connecticut State University football team will face the Long Island Sharks this Saturday in a test to see whether they can keep their momentum rolling. The Blue Devils have a win-loss record of 1-7 coming into their next game with the Sharks, who will also be bringing a 1-7 record into the matchup.
The Blue Devils currently rank sixth in the Northeastern Conference with a total of one win and three losses in the conference and will only have two more games left in the season after their matchup with the Sharks. With the status of junior quarterback Romelo Williams still unknown, the question of who will start the game as quarterback remains unanswered.
Williams has thrown a total of 330 passing yards and four interceptions this season. Senior quarterback Shon Mitchell, who started the last five games following Williams' injury, has racked up a total of 845 passing yards, six touchdowns, and five interceptions.
The matchup between the Blue Devils and Sharks will take place Saturday, November 5, at 1 p.m. at Bethpage Federal Credit Union Stadium and will be available live on ESPN3.