PINs No Longer Required to Register for Classes
A recent email was sent to Central Connecticut State faculty announcing the removal of the Personal Identification Numbers (PIN) that were formerly required for students to register for classes.
The email said the formal advising period had previously involved course selection guidance and PIN distribution enabling students to register for classes.
"While PINs provided some level of accountability, they also created unintentional barriers for students," the email said.
The Enrollment Management Council is working to make other tools available for ensuring students are on the correct path toward their degree completion, according to the email.
The recent decision should come as good news to most students, who said PINs should not be required for a student to register for classes, according to a recent survey conducted by the Student Government Association (SGA).
According to the survey, 79.1% of students felt that PINs should not be required, whereas 20.9% voted that PINs should be required.
SGA President Olanrewaju "Ola" Olamuyiwa said the Association would release an official statement soon.
Dr. Zulma Toro, CCSU President, said she takes ownership for deciding to drop the PIN requirement so that students could register for the Fall semester.
Toro said she also takes full ownership of the miscommunication about what to do regarding the Spring semester, according to notes from a  Faculty Senate meeting held in mid-October.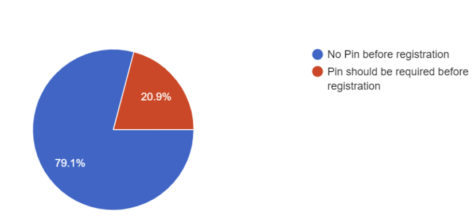 CCSU student Jordan Conklin said he hasn't really given registration PINs much thought.
"It took more time to register for classes, so I didn't really like it," Conklin said.
CCSU student Madino Hassan said she thinks the PINs are necessary because many students don't keep up with their degree evaluations.
Hassan said that students are disconnected from campus life, especially commuters, and it helps to have an advisor that holds you accountable in your track.
"CCSU doesn't really graduate all their students within a four-year time frame," Madino said.
Hassan said the meeting with their advisor gives them a chance always to know what's going on with their degree evaluation and helps them stay on track for a four-year graduation.
"Some students don't know what's required of them in their degree," Madino said. "Advisors have an insight into your program."