Court is in Session: Johnny Depp v. Amber Heard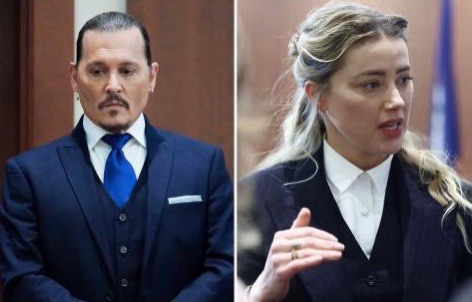 In recent weeks, Johnny Depp, 58, and Amber Heard, 36, have taken ahold of the public and become the top story for news outlets around the world. With each day bringing to light new details and fresh evidence, it is virtually impossible to stay up to date on the trial.  
Depp and Heard's decade-long relationship ended in 2018, but the battle between the two is nowhere near over.  
An op-ed article written by Heard and published by The Washington Post in 2018 has created extreme tension between the two and resulted in Depp suing Heard for $50 million in damages for defamation.  
According to NBC News, Heard claimed, "'During the entirety of our relationship, Johnny Depp has been verbally and physically abusive to me," Heard said in a sworn declaration. "He has a short fuse. He is often paranoid and his temper is exceptionally scary for me.'" 
NBC News outlined that Heard went on to write how she lived "in fear that Johnny will return to [our house] unannounced to terrorize me, physically and emotionally." 
Heard's 2018 article for The Washington Post claimed that she was a "public figure representing domestic abuse." Without ever mentioning Depp's name, Heard went on to mention how she had been forced to deal with abuse which began in her childhood and followed her up to adulthood. Depp's name was not needed to line up the details described in the article to the exact timeline of their divorce. 
As a result of the op-ed publication, Depp claims that he was released from his "Pirates of the Caribbean" franchise and faced a downfall in his career.  
"I would be a real simpleton to not think that there was an effect on my career based on Ms. Heard's words, whether they mentioned my name or not," Depp said in a TIME publication. 
In 2019, he sues Heard for $50 million as a result of her story's defamation to his status. 
Then, in 2021, according to TIME, Heard attempts to countersue Depp for $100 million, "Claiming that he defamed her when his legal team referred to her claims as "fake" and a "sexual violence hoax." 
The ongoing trials, which began on April 11, 2022, uncovered details that have effectively given insight into what the couple was experiencing behind closed doors.  
With Heard and Depp accusing the other of violence, and both denying the claims made by the other, the nation has become divided in half: some supporting the claims of Heard and others supporting those of Depp.  
Monday, May 2, five more witnesses stood at the stand and told their accounts of Depp and Heard's perplexing relationship. 
Of these witnesses was Travis McGivern, one of Depp's security guards, who, according to WJLA News, claimed that he saw Heard throw a Red Bull can at Depp, punch him and spit at him.  
"I let him get hit by a red bull can, I let him get punched and my job is to protect him and I felt like I wasn't doing that so I needed to get him out of there," McGivern said. 
Depp's testimony concluded with a dismissal of any violent accusations made by Heard, describing them as "heinous" and "disturbing." 
"Never did I, myself, reach the point of striking Ms. Heard in any way, nor have I ever struck any woman in my life," Depp said. 
Heard's lawyers continue to point fingers at Depp's abuse of alcohol and drugs as the sole contributor to the ruination of his career. 
According to The Washington Post, Depp compared himself one day to Cinderella and the next to Quasimodo after the publication of Heard's op-ed.  
"I didn't deserve that, nor did my children, or the people who had believed in me all these years. . . . I pride myself on honesty. I pride myself on truth," he said. "Truth is the only thing I'm interested in. Lies build upon lies build upon lies. It's too much to cover. I'm obsessed with the truth," he said. 
Appearing clear to me, is Depp's innocence. With an extensive list of individuals defending Depp's case, some of which include Winona Ryder, Sia, J.K. Rowling and others, the evidence backing up Depp is indefinitely stronger than that of Heard. 
With Depp's open admittance of his struggle with substance abuse, his intentions of telling the truth have been made even clearer. 
Heard has had few individuals step forward in support of her, while she has had allegations of abuse from former partners and Depp has had none.  
If all other evidence simply did not seem adequate to defend Depp, according to Daily Mail, Heard was exposed admitting to hitting Depp in an audio from 2015, "'I f**king was hitting you… I don't know what the motion of my hand was, but you're fine, I did not hurt you, I did not punch you, I was hitting you.'"  
With Heard's admittance to physically striking Depp, the chances of her abusive tendencies continuing throughout their relationship is even more likely. 
Depp's simple statement that keeping up with lying after lying becomes too much to keep track of points all arrows to further the argument for his innocence. 
Without a doubt, both Depp and Heard have made mistakes in the past and neither have been of perfect disposition, but one thing remains evident: the Depp and Heard case has taken over the nation and divided us once again.