The Legacy of Awilda Saavedra-Reasco
Awilda Saavedra-Reasco was a product of the Educational Opportunity Program at CCSU, belonged to the class of 1980, and worked at Central Connecticut State University for 35 years. 
CCSU alumnus, Ibrahim Wali from New Britain, said he joined the EOP in the summer of 2017. He said that he met Saavedra-Reasco through the program and she helped him with everything from opportunities for internships, work, and scholarships. 
"I'm really happy for her and I'm glad that she's moving on with her life, but I'm sad to see her go," Wali said. "We're still in touch and I come by to visit her office." 
Wali said he couldn't have gotten a job as an Arabic tutor in the Department of Modern Languages if not for Saavedra-Reasco.
"She is always willing to help anyone with anything they need," he said. 
Saavedra-Reasco, director of Pre-Collegiate and Access Services at CCSU, said her position involves pre-college programs which house the EOP and the CARE Scholars program.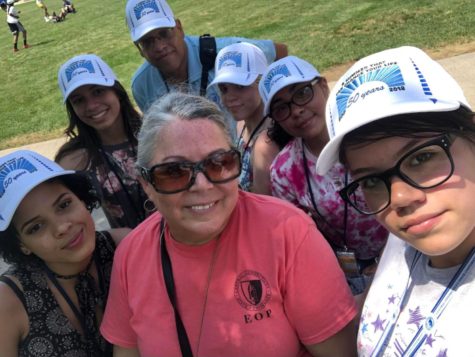 Saavedra-Reasco said the EOP supports the students until they graduate, and their goal is to get them to graduate school. She said the EOP started in 1968 at CCSU, making this summer their 55th year of operation. They have helped hundreds of students find success at CCSU.
She said CARE Scholars is a program for students in foster care. The program makes sure those students are getting all the necessary resources on campus to succeed.
"All departments are working in collaboration to help the students with whatever they need," Saavedra-Reasco said. "We have an open-door policy, and we help students navigate higher education, but most importantly, help them through whatever issues they have."  
Saavedra-Reasco said she had the privilege of working with students affected by Hurricane Maria for the CCSU-University of Puerto Rico Airbridge program. She said she helped them navigate the university.
Saavedra-Reasco said that's what education is all about. She said that when you learn to embrace every person who comes in front of you, you can help them develop. 
"Our Secretary of Education, Dr. Miguel Cardona, was my peer mentor," Reasco said. "Little did I know that he would call me and say I'd like for you to serve on the State Board of Education Commission for the governor." 
"Those connections are so important," Reasco said. "Those college friends that you build will stay with you forever." 
Reasco said it all goes back to higher education; she tells her students that it's a rich experience and to not let anybody take it away from them. 
"It's gratifying that I had experienced being a student at CCSU because that's where my second home was," Reasco said. "I found myself with great people who mentored me and took me under their wings, which is why I believe in giving back." 
She said she is very grateful for the opportunities she's had, and it's been an honor to work under Dr. Zulma Toro, a Latina woman president. She said she was proud to work under many presidents who have been very helpful during her work at CCSU. 
"I'm very thankful for the students, and as much as I helped them develop, they helped me understand through their eyes," Saavedra-Reasco said. "I just want to go back and reflect on the students that I worked with, and I want to say to be persistent, determined, and at the end of the road, graduate."