Miel Coffee: The Healthy Honey Coffee Shop
NEW BRITAIN – Miel Coffee officially had its grand opening on Feb. 22 at The Assembly Room on 222 Main St. and has a unique way of making their coffee.
"The main concept is that everything is made with a honey base, there's no sugar," Humberto Ontiveros, Miel Coffee's owner, said.
"Miel" is a Spanish term that translates to "Honey" in English. This is the core ingredient that Miel Coffee is known for and is used as a healthier substitute for sugar.
Ontiveros decided not to sell sugar or whole milk at his coffee shop because of the long-term damaging effects it could have on the human body.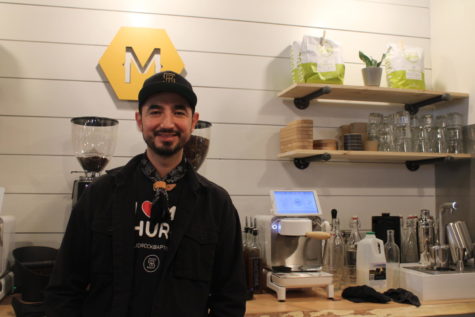 "If I go to any coffee shop, my stomach hurts and gets bloated because of the dairy," he said.
According to Ontiveros, this is because many forms of dairy, milk especially, that are sold in grocery stores and establishments that serve coffee are often processed.
"We want real dairy, not fake dairy because it's not good for you," Ontiveros said. "It's not the milk that's killing people, and it's the process."
Ontiveros's inspiration to run an organic coffee shop came from his struggles with Lyme Disease, a condition that MedlinePlus describes as a tick-transmitted bacterial infection that "causes symptoms such as a rash, fever, headache, and fatigue." 
"It didn't get better until I changed my diet," Ontiveros said. "I went on a journey to go more organic and non-GMOs [Genetically Modified Organisms]."
According to the Global Lyme Alliance, dairy is detrimental to those with Lyme Disease because "it can be inflammatory." Verywell Health also states that "Diets high in saturated fats, trans fats, and refined sugar have adverse effects on the immune system," especially those with the disease or other conditions that cause one to be immunocompromised. 
Ontiveros said he realized this from his own experiences and noticed many people he knew had weakened immune systems because of COVID-19. He traveled to find the best organic ingredients to provide customers with their different needs in his coffee shop.
"I discovered that processed sugar is harmful," Ontiveros said. "Honey is the only qualifier because maple syrup is also processed."
Besides honey, other natural ingredients Miel Coffee serves in their coffee include raw milk, non-homogenized, low-pasteurized milk, which is helpful for customers who are lactose intolerant, and natural vanilla extract from vanilla beans.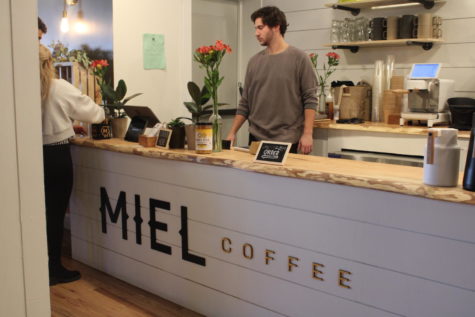 Miel Coffee also has a sweetness scale to allow its customers to have their coffee as sweet as possible.
"It's similar to how people want their steak, and they want to make sure it's done right," Ontiveros said. "We just want to be a consistent, clean, real, organic coffee shop."
All of Miel Coffee's ingredients, which are brought to the shop from a locally sourced farm, help their blends of coffee, such as their most popular drink, the "Cafe Miel Latte" (Made with honey and cinnamon specifically), taste sweet while not causing any significant adverse effects to one's health.