Inside Beecher Hall: Isolation Creates Anxiety for CCSU Students
Catharine Beecher Hall serves as the isolation hub at Central Connecticut State University for students who test positive for COVID-19. Many college students in isolation experience heightened mental health issues, but CCSU staff have created programs in an attempt to help.
A study by Mental Health America found that 8 in 10 people reported moderate to severe symptoms of depression and anxiety in 2020. Among those people, 70 percent said loneliness/isolation was one of the top three contributors to their mental health. Students in Beecher Hall cannot attend their classes in person or leave until approved by staff, so many end up feeling lonely and isolated.
Rachel Davis, a freshman at CCSU, was left with mixed feelings after staying at Beecher Hall this semester. Davis said that she tested positive for COVID-19 on a Sunday evening. She said she was given a "couple minutes" to go back to her dorm and was told to pack the necessities. She stayed in Beecher Hall until that coming Friday – a total of 5 days.
Davis said that the dorms in Beecher Hall were "tiny" compared to her room in Robert Sheridan Hall. She said she could not leave isolation until she tested negative for COVID-19, so she spent most of the time in her assigned dorm. "It's kind of just the same thing every day."
Davis said she saw a couple of other students during her stay, but staff tried to keep interaction to a minimum. "They didn't really want you to talk to other people because if you were getting better and that person was still worse, you could get sick again," she said. The Center for Disease Control and Prevention said that those who have recovered after COVID-19 would have "some protection from repeat infections," but reinfections can still occur.
A study on the effects of the COVID-19 pandemic on the mental health of first-year college students by Jane Cooley Fruehwirth, a professor at the University of North Carolina, found that social isolation caused an increase in both anxiety and depression symptoms in students. Davis is no different. "It does get kind of depressing," she said. "The only view I had was like the entrance of James and Barrows Hall, so that's all you look at, and you see everybody else walking by."
She said she missed going to classes, Devil's Den, and seeing her coworkers and friends. Social isolation mixed with intense COVID-19 symptoms led to a loss in motivation for Davis. "I was spending most of the day sleeping, so I felt like 'I'm still way too tired to do work,'" she said.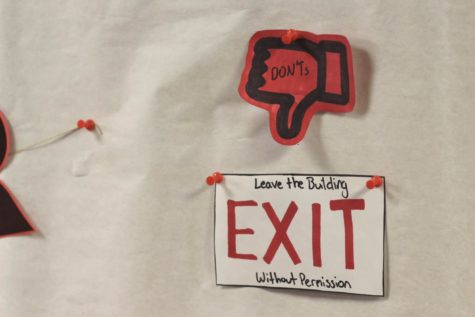 While she felt lonely, Davis said the staff at Beecher Hall were kind and helpful. They gave her a list of all the rules for her isolation regulations upon arrival, provided her with a QR code to order food for the following day, and gave her the phone numbers of various campus resources to call if she needed help.
Michael Russo, the Director of Counseling and Student Development at CCSU, reaches out to the students in Beecher Hall for counseling. "We do check in with students when they're there just to see how they're doing, usually within 24 hours of going in," Russo said. "We'll reach out and ask them how they're doing. I ask them specifically if they're interested in talking with a counselor to address any issues."
The Counseling Center comprises a team of five full-time clinicians and several part-time counselors, and Russo does all of the clinical supervision. Russo said he had seen a significant increase in students seeking counseling since the pandemic; by the end of the fall 2021 semester, the Counseling Center had served 4% more students than the entire 2020-2021 academic year. "It was very busy, and we're seeing a very, very busy start to the semester as well," he said. A survey by Inside Higher Ed and College Pulse found that only 15 percent of students used college-offered counseling in 2021, so the increase in CCSU students seeking help is somewhat uncommon.
Russo has seen an increase in anxiety and depression in students since the start of the pandemic. Those in Beecher Hall are no exception; while he said most students in isolation are "handling it pretty well," some have difficulties adjusting. "It's very difficult, I think, for our students not to have interaction with their peers and not to be able to attend class in the way that they're accustomed to," Russo said.
Russo said that he understands that additional challenges in isolation take a toll on mental health, which is why the Counseling Center has been reaching out proactively. He said that clinicians could see students through Telehealth, a tool to provide health services from a distance and get connected quickly. 
Russo said he was pleased with CCSU's mental health support during the COVID-19 pandemic. "The university has really been a champion of addressing students' mental health needs, and I think we're very fortunate to have that type of support from the university's administration."
Dr. John Tully, Interim Vice President of Student Affairs, said that Student Affairs created the isolation hall to ensure that COVID-19 positive students get the care they need and keep the campus community safe and healthy. He said that Beecher Hall saw a rise of students in isolation in the first couple of weeks; according to the CCSU COVID Weekly Dashboard, there were ten students in isolation for the week of Jan. 24, 10 students for the week of Jan. 31, and no students as of Feb. 7.
Tully said that isolated students are physically okay, but some struggle with their mental health. "Our students are doing really well," he said. "We haven't had any hospitalizations, but we read about the statistics, and it can cause anxiety."
He said a combination of testing positive for COVID-19, worrying about missed classes, and a lack of social interaction leaves students in isolation, feeling anxious. "Your normal support of hanging out with your roommate or going out to dinner or hanging out in class – all of that's kind of gone," Tully said.
Student Affairs has taken steps to help students through isolation. Tully said they have counselors reach out to those in Beecher, bring them food from Memorial Hall, and are in the process of creating welcome baskets. He said that the wellbeing of students in isolation had been a "major concern," and Student Affairs is trying to make their experience better.