How CCSU Students Manage College and Relationships
Being a college student can be very stressful at times, and managing that work-life balance can be very challenging, especially for those who are in romantic relationships. However, some Central Connecticut State University students have proved it's not impossible to seek an education and be in a committed relationship at the same time.
Marissa Martin, a junior at CCSU, has been in a relationship with her girlfriend, Taylor Yankowski, a sophomore at CCSU, for two years.
"We both understand how it feels to be a student and can share the experience," Martin said.
Yankowski and Martin have both agreed to prioritize their college education, but said they plan multiple ways to still spend time together whether it's studying together, going out to get a cup of coffee, or other fun activities during the holidays. Martin said having something fun to look forward to in a relationship is a great motivator when getting through college work.
"School can be very stressful, so it's important your relationship is the opposite," she said.
Julia Conant, a senior at CCSU, also said college students should prioritize their education over their relationships.
"You should still try to make time for the relationship, but if you know you need to do schoolwork, tell your partner you'll see them later," she said.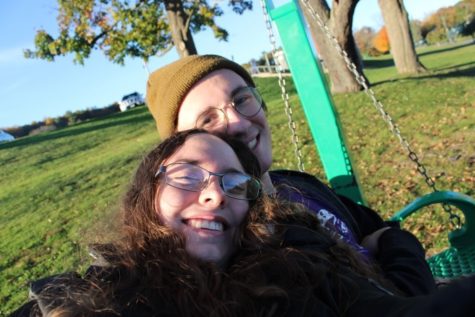 Conant and her boyfriend, Charles Hosek, also a senior at CCSU, have been together since November 2018, when they were both in their first semester. Conant said she feels college takes up the majority of her time.
"I'm a full-time student with two part-time jobs, so at times I feel overwhelmed," she said.
To continue pursuing her college education while also making time for Hosek, Conant said her best strategies are for her and Hosek to meet up with each other during gaps they have between classes and for them to participate in the same extracurricular activities. She said this has been very rewarding for both her and Hosek.
"The best part of being a CCSU student in a relationship has been having someone to do activities with, whether that be Devil's Den events, school dances, or even grabbing a meal off-campus," Conant said.
Based on the experiences of these CCSU students, here are the top three ways students manage their relationships in college:
1. Time Management- Planning out your schedule in advance can be very helpful with achieving that balance between work and social life. Have a break between classes? Go get a cup of coffee with your partner like Martin and Yankowski or participate in clubs on campus like Conant and Hosek. Just make sure your relationship isn't a distraction from your education.
2. Comfort- College is a factor of stress in these relationships, and there's a chance that it is for you and your partner as well. If you notice your partner has been showing signs of stress, reassure them that you will be there for them. If you're the one who's in a state of being stressed, talk to your partner about how they can assist you best.
3. Communication- The partners in these relationships didn't decide how to manage their college and personal life on their own, they worked it out together. Discuss what works best for both of you and make sure you stay on the same page with your partner.