A New Look For Men's Soccer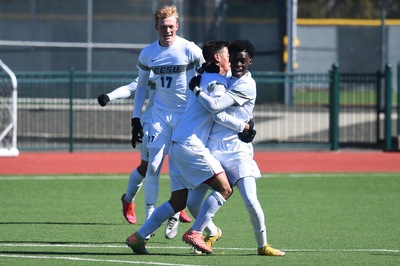 With every end there is always a new beginning. In 2019, after 35 seasons in charge, Shaun Green announced his retirement from his role as head coach of the CCSU men's soccer team; his vacancy would be occupied by David Kelly, who served as assistant coach of the program since 2013. Kelly would inherit a program that saw few signs of life; having won only five games in the last four seasons (31 games total).
The new era under David Kelly began with the biggest of imponderables: the COVID-19 pandemic, which forced adjustments and cancellations on university academic and athletic activities. The debut season, scheduled for 2020, would be postponed until March of 2021.
When speaking about the cancellation of the 2020 season, Kelly was able to extract positive points: "The pause worked out okay for my program because it gave us the opportunity to focus on redefining the values of the culture, leadership, and character development without being judged on wins and losses," Kelly said. "The pause gave us an opportunity to create a healthy and positive culture based on the belief that my staff and I have set into place in the quest for excellence and in the quest for my athletes to become the best versions of themselves on the field, academically, and in character and service."
Nearly a year and a half later, in March of 2021, college soccer would return in the Northeast Conference. In their opening game, the Blue Devils would draw 2-2 with Mount St. Mary's. In their second, they would lose 1-0 at St. Francis Brooklyn, who would later go on to win the conference. In their third game, the Blue Devils defeated Merrimack 2-1, who won the regular season back in 2019.
Touching back on that big victory, newly incorporated junior Nicholas Wlodarczyk spoke about the significance of that upset: "Merrimack was our first big test to show who we really were and we came out and we shocked the whole conference. That victory gave the sense that we were a big deal and we then went on to beat Fairleigh Dickinson, a strong, powerhouse team, 3-0."
In past seasons, CCSU men's soccer was not a team that gave much to talk about in the NEC. They were a team characterized by conceding many goals, having a losing record in their seasons and being far away from establishing competition and fighting for spots in the Conference finals; something last achieved in 2013.
Upon defeating important rivals like Merrimack and Fairleigh Dickinson, freshman Iván Farías-Martínez, who would form part of the 2nd Team All-NEC squad, spoke about the resonance of those victories across the conference: "We turned a lot of faces getting those victories," he explained. "In the past, our rivals would play us and they would demerit us. No one was expecting us to do good; the way we performed was very unexpected about us. We proved our rivals wrong; they're not going to take us lightly anymore, they're going to take us as serious competition and they're going to respect us."
The second two games would result in two 4-0s': a loss at the hands of Long Island University, and a victory against Bryant; which in conjoint with favorable results from other teams, put Central in a position in which a victory in their last game against Sacred Heart would have signified a spot in the grand final of the NEC Conference.
"It was the first time in a long time that a CCSU men's soccer team had something to play for," Coach David Kelly highlighted. For the misfortune of the Blue Devils, the match would finish in a 2-0 defeat, culminating the CCSU dreams of disputing the conference final. "We have some lessons to learn and it's also due to inexperience. There's situations you can only learn from if you get through them. You have to make mistakes in order to learn and grow; hopefully this group will have learned those lessons so when we face those same obstacles again, we will be prepared; we will have the solutions for them."
Coach Kelly also spoke about his desire and expectations for the program in the seasons to come: "We're going to have the athletes to achieve attacking style soccer. By next year or the year after, we're going to have a squad full of technical players that can play the game, understand the game, and have the intelligence to put on a good showing."
Chapter one of the new CCSU men's soccer team under David Kelly was one that showed a face unrecognizable from past seasons thanks to the vast improvement seen this spring. "It's a great sign for the future of the program," Kelly said. "The group knows they're onto something special."