Central Art Gallery Holds Faculty Art Exhibition
Do you ever wonder what your professors do in their free time? If you visit Central's art gallery, you can find out.
Central's Art Gallery is currently hosting their 2021 Faculty Art Exhibition, where art professors display their work. Mediums range from pottery to digital collage to paint.
The professors whose works are featured are Thomas Edwards, Theodore Efremoff, Sherinatu Fafunwa-Ndide, Terry Donsen Feder, Brian Flinn, Sean Gallagher, Vicente Garcia, David Holzman, Jennifer Knaus, Eben Kling, Glenn LaVertu, Adam Niklewicz, Mark Strathy, Rachel Siporin and Patricia Weise.
Some works in the exhibition were inspired by the isolated feeling of the COVID-19 pandemic. One example of this is Holzman's work.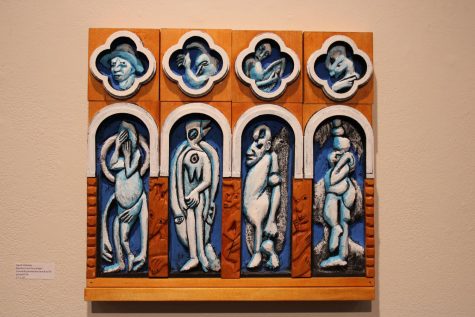 "The wall relief titled 'Four Personages' dates from one year ago when we were making the transition from normal reality to the pandemic," Holzman included in his artist's statement for the show. "Quarantine had a big effect on my work. I was about to be cut off from regular contact with my students and colleagues and forced into working in isolation."
Another example of artwork inspired by the pandemic is Feder's watercolor paintings.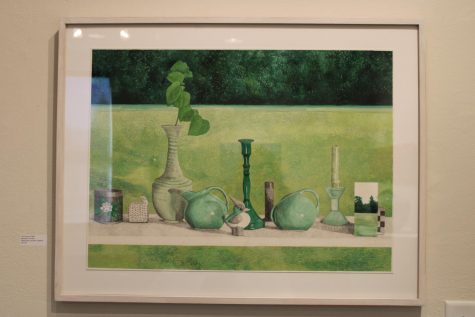 "The three pieces in the show… are all COVID work done last year when I was feeling confined," Feder's artist statement reads. "The objects in the drawings are familiar things in my house, some given to me or made by students and colleagues I was missing."
Weise also took inspiration from objects around the house with her art series, "Kitchen Clutter."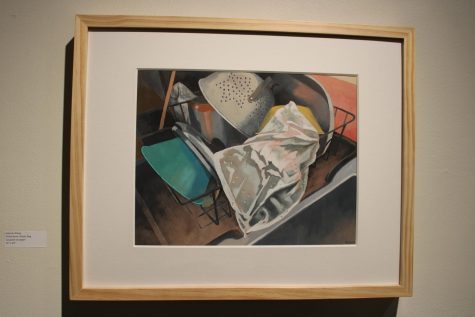 "I started these paintings thinking of them as close-ups of larger paintings of interior spaces, but they have taken on their own direction," Weise said regarding the collection of paintings. "Perhaps the repetitive, meditative quality of some household tasks is not a far stretch from the actual activity of painting the scene."
While Feder and Weise used inspiration from close to home,  Ndibe was inspired by the aspects of another country.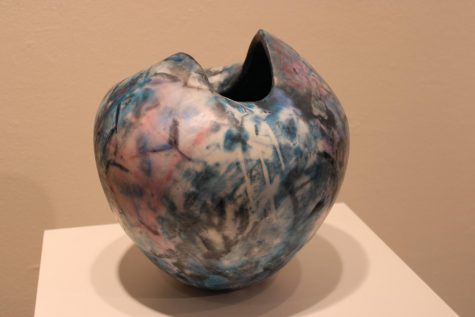 "My art is influenced by the traditions and aesthetics of West African and Western ceramics as well as encaustic and textile design," Ndibe wrote. "I attempt to manipulate form and shape in order to convey the idea both of a physical as well as a spiritual containment."
LaVertu's artwork, however, was inspired by Rhode Island.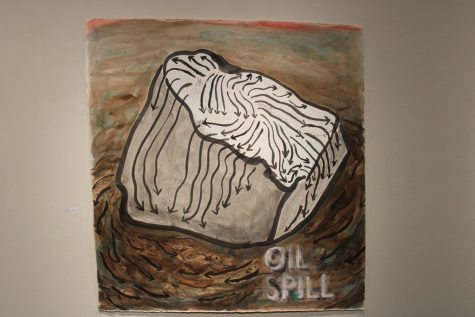 "I would visit Newport to do some seascape painting, my attention turned to the large rocks on the south side of the bay," LaVertu wrote. "As a pun, I started thinking about the derogatory term rock-head, or 'head full of rocks,' and, as a way to counter this trope, the arrows became a representation of thinking."
This has only been a fraction of the works featured in the 2021 Faculty Art Exhibition. To see thte rest, make an appointment to visit the gallery using this link.
The gallery is currently only open to members of the Central community, and COVID-19 guidelines must be followed in the gallery.