Men's Soccer Shuts Out FDU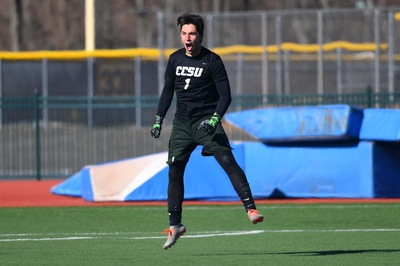 In the 2019 season, Central Connecticut men's soccer finished its season with a 1-1-13 record. This year's team has topped that win total through the first four games of the season.
The Blue Devils shut out undefeated Fairleigh Dickinson University in a 3-0 victory Monday, improving to 2-1-1 on the year.
The program is run by Interim Head Coach David Kelly, who had been an assistant coach with the team for seven seasons. Kelly took over from Shaun Greene, who announced his retirement last year after 35 seasons with the program.
"When I took over from Shaun a year ago, I just came up with a crystal clear vision of where I wanted the program to go," Kelly said. "Everyday it's just been a small step in that direction."
CCSU's defense caused the Knights issues throughout the whole game. Every pass FDU made seemed as if the Blue Devils were right there to disrupt it. Kelly had high praise for his defense and its dedication after the game.
"They've been great," Kelly said. "They have a real championship mentality. They just have a real understanding that it requires a lot of sacrifice to keep the ball out of the back of the net and that was evident today."
While the Knights were having trouble getting things going on offense, the Blue Devils piled on the points early.
CCSU was awarded a penalty shot just 6:14 into the match, which junior Sean Gannon knocked into the right corner past FDU's goalkeeper. The goal was Gannon's second on the season, a team high.
Neither team scored for the ensuing 70 minutes. Junior goalkeeper Jason Dubrovich was kept busy, however, making three saves on FDU's three shots on goal. His highlights included a sliding save and an acrobatic one off of the post.
The Blue Devils added some insurance scores in the waning minutes of the game.
Gannon sent a perfectly placed corner kick to freshman Kyle Halehale, who headed it in for his first goal of the season.
Sophomore Mitchell Lyons joined in on the scoring just five minutes after Halehale's goal, evading two defenders and sending one into the bottom left corner of the net.
Kelly said that the offense has been a work in progress thus far and likes what he saw from Monday's game.
"We've been working on trying to get guys in behind the other teams defense," Kelly said. "The first two games we struggled with that, everything was in front."
According to CCSU Athletics, this streak of wins is the first time men's soccer has had back to back wins since September of 2017.
Kelly said that character was a big part of his recruitment process for this team.
"That was really the main focus, establishing a really healthy culture with guys who understand the values of hard work, sacrifice and service," Kelly said.
Central Connecticut men's soccer will be traveling to Long Island University for its next match on March 29 at 1 p.m.