Volleyball Splits Series Against LIU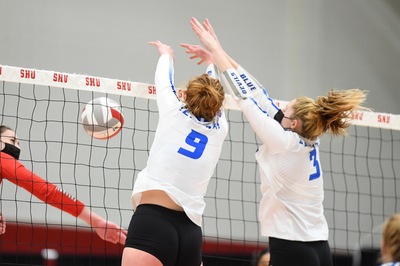 Central Connecticut State volleyball split its two home games against Long Island University Wednesday, keeping its postseason hopes alive.
In a normal season, four teams make the Northeast Conference Tournament. In this abbreviated spring season, there will instead be a one-game playoff that decides the champion, meaning only two teams have a shot at the postseason and a title.
Sacred Heart is an early favorite after collecting wins over the other three top teams: CCSU, LIU and Bryant. This made CCSU's victory in the second match against LIU even more critical.
The first match of the day did not go CCSU's way. LIU led most of the way and were able to sweep the Blue Devils in three sets.
"We did look like a different team," CCSU head coach Linda Sagnelli said of the team's performance in the first match. "We really needed the time in between matches to come together and understand that we just weren't putting enough emotion and competitiveness into the match. That wasn't us in the first match, we looked like we were more robotic."
Revitalized after the break in between matches, the Blue Devils turned things back up for the second match of the day.
"The second match was a totally different atmosphere and personality," Sagnelli said.  "We said 'if we're going to lose, we're going to go down swinging.'"
According to Sagnelli, "it paid off."
Neither team were running away with the match, though CCSU looked like a much more composed unit than LIU. The Sharks' outside hitters, who dominated in the first game, were mostly stifled by the CCSU defense.
LIU stole the second set after CCSU had set point at 24-22. The Sharks narrowly took the fourth set as well, forcing the winner take all fifth set, which goes to 15 points as opposed to the regular 25.
The Sharks led early in the deciding set, but sophomore Isabelle Roufs and the Blue Devils used their defense to their advantage, recording four straight blocks to take back the lead.
Senior Emma Henderson recorded four of the final five points of the match, sealing the victory with a kill coming out of a timeout. Henderson led the Blue Devils in kills in both matches, notching 36 over both competitions. The senior had an impressive double double in the second match, securing 19 digs to go along with her 24 kills.
This is the first match the Blue Devils have played in that went longer than the minimum three sets.
Tuesday's win over LIU puts CCSU at 3-3 on the year.
The Blue Devils' next match is another one they've had circled on the calendar for a while. They will be traveling to Rhode Island to take on Bryant, who is 4-2 in conference play so far this season.
"We want to go in there and sweep [Bryant]," Sagnelli said. "This was so important for us to take the second match, we're still very much alive."