Swimming And Diving Places First in 13 Events in Win Over Bryant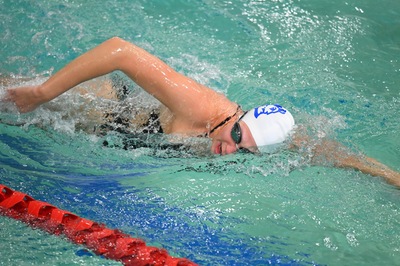 After a victory against Sacred Heart in its season opener, Central Connecticut Swimming and Diving defeated Bryant in the team's first home dual of the season. The Blue Devils won 13 of the 16 events against the Bulldogs for a final score of 194-99.
The team of 22 is comprised of 18 juniors and freshmen. Both the old and new faces for the Blue Devils contributed in the victory.
Junior Jeannette King was on the winning side of three events. King won the 100 free with a time of 52.90 and was on the winning team in the 200 yard medley and 400 free relay. She also finished second in the 50 yard freestyle with a 24.31 time.
King was joined in the 200 yard medley by fellow juniors Hallie Perrin and Maria Espino as well as freshman Ashley Calderon. The group finished with a final time of 1:47.62.
Calderon won two more events on her own against Bryant. She finished first in the 200 yard butterfly (2:09.10) and the 100 fly (58.94).
The winning team for Central Connecticut in the 400 free relay was comprised of all juniors. Perrin and King were joined by Katie Czulewicz and Simona Visinksi. They finished the event with a 3:46.30 time. In the team's last duel, this group broke the pool record in this event.
The Blue Devils took the top three spots in the 200 free. Czulewicz was first to touch the wall with a time of 1:54.46, and was followed closely behind by freshman Morgan O'Hara (1:58.36) and Visinski (1:58.78).
Czulewicz also finished first in the 500 free with a time of 5:06.31.
After winning the 1oo backstroke in the Blue Devils first duel against Sacred Heart, freshman Natalie Pena bested her previous time and won the event again against Bryant. She touched the wall in under a minute, finishing at 0:59.63.
Junior Alex Lindgren won three events of her own, finishing first in the 200 yard IM (1:12.44), 100 breaststroke (1:07.30), and 200 breaststroke (2:23.36). The Blue Devils took home all three of the top spots in the 200 breaststroke, as Espino (2:28.11) and sophomore Abby Bacon (2:32.32) finished shortly after Lindgren.
Freshman Abbey Keane's victory in the 1,000 free at 10:37.22 rounds out the 13 victories Central Connecticut took over Bryant. In all, juniors won eight of the individual events while the freshmen took home four.
Central Connecticut swimming and diving will be back in its home pool competing on Feb. 27 when they host Long Island University at 5 p.m. The Blue Devils will be looking to pick up their third victory in as many duels.