Women's Center Hosts Panel Led By Freedom Rider, Joan Mulholland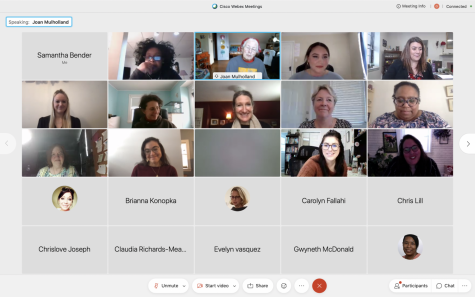 On Tuesday, Feb. 9, Central's Women's Center welcomed Joan Mulholland, a freedom rider, for a panel entitled "She Stood for Freedom: The Untold Story of a Civil Rights Hero."
Mulholland, who grew up in Arlington, Virginia, comes from a long history of fighting for civil rights. She has participated in over 50 sit-ins and demonstrations, including Freedom Rides, the Jackson Woolworth's Sit-in, the March on Washington, the Meredith March, and the Selma to Montgomery March.
At age 19, Mulholland was arrested for her work as a member of the Student Nonviolent Coordinating Committee. Her mugshot has been deemed one of the most iconic in American history.
Mulholland has crossed paths with some of the biggest individuals involved in the Civil Rights Movement, including Martin Luther King Jr., Medgar Evans, Fannie Lou Hamer, John Lewis, Diane Nash and Julian Bond. She has also been featured in several books and documentaries such as "An Ordinary Hero" written and produced by her son.
Mayor Erin Stewart, alumni of Central and avid supporter of the Women's Center, was in attendance.
"I commend Joan Mulholland for her strong activism within the civil rights movement of the twentieth century and thank her for her commitment to achieving racial equality," Stewart said. "We are thankful for Joan's remarkable efforts, passion and dedication to her beliefs in the fight against racial segregation in the United States of America."
At the panel, Mulholland admitted that growing up, she was oblivious to segregation and inequality but discussed that every summer she would go down to Georgia to visit her grandma. There, she discovered there was one dirt road in the white section, and off of that, there was a dirt road through the colored section.
"Down the middle of the road in the white section, there was a railroad track. Every day this train would come through and the houses would all shake and that train was named the Nancy Hanks. Nancy Hanks was Abraham Lincoln's mama. Proof to my mind that a Yankee owned that train," Mulholland said.
Mulholland recalled her experience walking through the colored section as a young, white girl with her friend.
"As bad as the housing was in the white section, it was so much worse in the colored section," Mulholland said. "And when folks saw these two little white girls coming down the road… man they made themselves disappear so fast because they didn't want to know anything about us."
She went on to discuss the difference between the white and colored schools. While the white schools were fancy and in good condition, the colored schools were not.
"[The colored school] was a one-room shack, up on rough piles, never had a drop of paint on it. The door was ajar, you could see the pot-bellied stove for heat," Mulholland said. "No glass or screens in the windows, just wooden shutters. Nothing in the yard, no playground equipment, no grass. And just one outhouse for everybody."
In terms of the progress Mulholland feels the country has made with civil rights, she said her generation managed to get rid of legal segregation.
"There is still all of this prejudice and the thing is we see it so much more broadly than we did back in my day. We just saw things in black and white like the televisions," Mulholland said. "Now we've got colored TV and we can see discrimination in all sorts of color, literally and figuratively, against different groups of Americans. We see it in terms of discrimination on language, on religion, on what neighborhood you live in."
Mulholland said she has and continues to fight for civil rights because it's about doing the right thing.
"I just believe we can be better and it starts with each of us," Mulholland said.