Selena Returns
This weekend as Youtube's recommendations elongated; right at the bottom in the mist of it all was the jackpot in bold black letters: "Selena: The Series trailer" staring right back into my frames that was released this month.
The Netflix series is executively produced by the Quintanilla family and is something to surely look forward to. The 1997 movie only covered Selena's life in two hours and with this now being a show, the family is able to give an ever deeper look into the woman Selena truly was.
Selena Quintanilla was born on April 16, 1971 in Lake Jackson, Texas where her father, Abraham Quintanilla Jr., saw the talent of Selena and her siblings and created the atmosphere of success that would soon fall upon them in their later years, molding them as stars.
Though they seemed to be raised as mostly American, their Latin roots dug deep when it came to music because that led to their success even if they barely spoke the Spanish language — it surely paid off.
It's been 25 years since her life was taken by the hands of her employee and friend, Yolanda Saldivar — who continues to serve her life sentence in prison after being charged with murder for shooting the 23-year-old star.
There hasn't been much in the film world surrounding the iconic Selena Quintanilla since the 1997 film, in which Jennifer Lopez portrayed the soulful Mexican-American singer that generations have grown to learn and love through her music and movie of her life.
Twilight star, Christian Serratos, will be playing the memorably fashionable Selena and there isn't too much reason to be disappointed after watching her introduction of Serratos as our red-nailed favorite here on YouTube.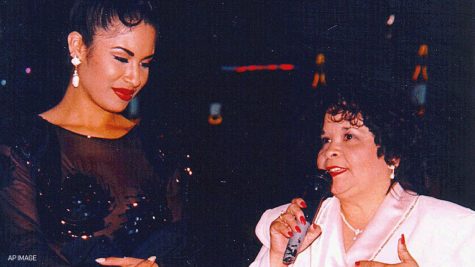 Even if the singer is no longer here, her music still lives on, especially in the Latin heritage. Millions of viewers are definitely going to tune in to part one of two in the series that will be released later this year, on Dec. 4, 2020.
If there is one thing Selena fans should be looking forward to it's the classics: Bidi Bidi Bom Bom (1994), Como La Flor (1992), No Me Queda Mas (1994) and I Could Fall In Love (1995).
Also, how could one ever forget her timeless fashion?
Stay tuned for this series that is going to tell the story of the woman who broke barriers in music and culture this December on Netflix.