Thrift This!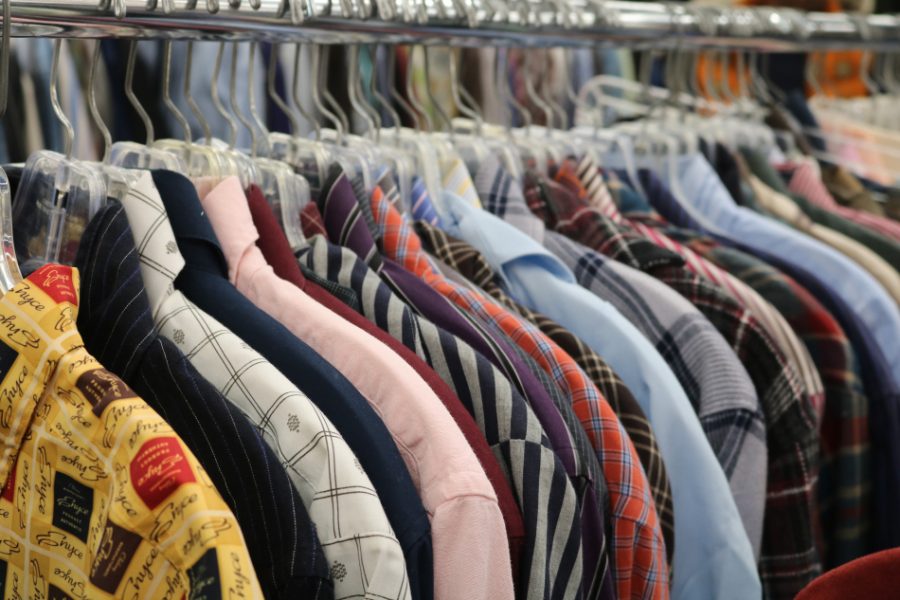 Millennials thrift hard. Thrift for the nostalgia! Savings! Macklemore! In honor of popping tags with twenty dollars in our pockets, let me take you on a virtual shopping tour of my six favorite Connecticut thrift stores.
Goodwill, New Haven (Amity Road)
My love began here. This specific iconic, cobalt-blue Goodwill is located between an expensive spa on the right and an unmemorable store on the left. Enter the store into color-coded heaven—indigo-blue vests pop while the smell of antiques lingers. As one of the smallest Goodwills in the area, the competition is real, but the treasures here are the jackets.
As a tall woman with Elastigirl limbs, the men's section is the place to be. From name brands like Columbia, Champions and L.L. Bean to classic '70s Foxy Brown leather, vintage sports teams, goddess fur, retro denim and spicy grandpa blazers—they even come in suede, all under twenty dollars!
Savers, Newington (Berlin Turnpike)
The home of all things 50 percent off, what a bargain and an addiction! I didn't walk out $100 short with three full bags for no reason. If you're looking for some wicked business attire that will get you hired, waltz through their double doors. Seriously, take my advice.
I got hired on the spot in my all-thrift outfits: a six-dollar bubble gum and navy Tommy Hilfiger blazer and some five dollar taffy pink corduroy ankle pants. I mean, it could've been the résumé, but I'm giving all thanks to this Savers right here.
Fashionista Vintage & Variety, New Haven (Whitney Avenue)
A true bang for your buck if you're looking for genuine twentieth-century jewelry for a low price. The concrete walls draped in the nostalgia of the 1920s Charleston dancing flappers and a whimsical disco trip, while the smell of sweet daisies trails behind you.
The prices may be considered high for thrift, but you can't put a price on a classic! From $50 crispy-clean typewriters to smooth $30 uncle watches, this stylish beauty has a lot to offer. A rental service is even offered for nearly all items with reimbursement of more than half your deposit and one-third of a rental fee.
If you're a photographer, muse, or just downright too cool, come on down to the Fashionista, where you'll be guaranteed to find a buyer that reminds you of the good ole times!
Goodwill, New Britain (Columbus Boulevard)
On a journalism adventure of trending thrifts, I stumbled upon this beauty—a fairly new and great addition to New Britain if you're looking for some vintage vinyl and high heels. Mostly roamed by senior citizens, the music collection is intense: ranging from the Average White Band to world symphonies. As a habitual thrift heel advertiser, this is my new shoe therapy. I couldn't resist a minimum five-inch, funky sapphire-blue platform and crisscross scarlet red straps by the Daisy of Dukes, Jessica Simpson, for just five dollars!
Savers, Orange (Boston Post Road)
A little more expensive than surrounding Savers, but oh so worth it. As one of the largest Savers around, if you need a cool graphic tee or bomb bottoms for under ten dollars, this is the place to shop. From childhood '80s and '90s sitcoms to now—The Fresh Prince of Bel-Air, Rugrats, Friends, The Simpsons and more.
This also includes unique sarcastic sayings for those special introverts with a lot to say. And bottoms? Don't even get me started! The male and female aisles have so many options: clueless skirts, jazzy track pants, comfy, trendy sweats and groovy denim jeans. If you're running low on cash, don't worry—catch them on a 50 percent off day! You'll thank me later.
English Building, New Haven (Chapel Street)
Ah, the hidden gem. Their bricks are painted with rainbow-colored fabrics, yarn and hand stitched floral artwork creates the most diverse thrift in the area. From brass and silver buttons for just two dollars each to limited-edition 1940s mint green Elna sewing machines with the original instruction manuals. Exclusive 1960s Polaroid 104 Land Cameras and psychedelic hippie reads for only 99 cents—my brain is still sizzling from "The Last of Her Kind." If you're planning on time-traveling anytime soon, this is the bad boy for you!