NEC Soccer Pens Letter To NEC Commissioner
Northeast Conference soccer players are calling on Commissioner Noreen Morris for a chance to play their missed season this spring.
Since the NEC's postponement of the fall sports season on July 9, news of a season being played in the spring has been nothing more than hopeful rumors and speculation.
On September 22, the NCAA approved a plan to have fall championships played this Spring. The NEC has been planning on holding a meeting regarding their future and potentially a similar plan on October 1.
Soccer players from around the NEC sent an open letter to Morris on September 10. The letter, spearheaded by CCSU's Roma McLaughlin, reads as follows:
"As a unified body for both men's and women's soccer we strongly feel that a competitive NEC soccer season occur in the spring for the following reasons:
• Soccer is an imperative component of our college experience
• Due to circumstances including funds, education pathways and future plans, the option of accepting a fifth year of eligibility is not a reality for many of our seniors
• Some of us have aspirations of continuing into professional careers. The inability to play competitively for an entire year would be detrimental towards our progress and we do not wish to be forced to leave the college soccer pathway early in order to achieve this
• Ultimately as student-athletes, competing in our sport is part of our identity."
Fall athletes at CCSU recently began practicing in groups on campus. McLaughlin said for now "I think that we are all just happy to be back out on the field and practicing since it has been so long."
"It is tough as athletes to not play a competitive game in what will be over a year," McLaughlin said. She also notes that the focus right now is on playing in the spring.
"We are very grateful to start practice, but we all want to play games and have something to look forward to," McLaughlin said.
McLaughlin, the first CCSU women's soccer player ever named to the All-America team, shared the letter/petition to play that has since been signed by every soccer player in the NEC on both women's and men's teams.
On September 18, Morris sent a response back to McLaughlin and the rest of the NEC.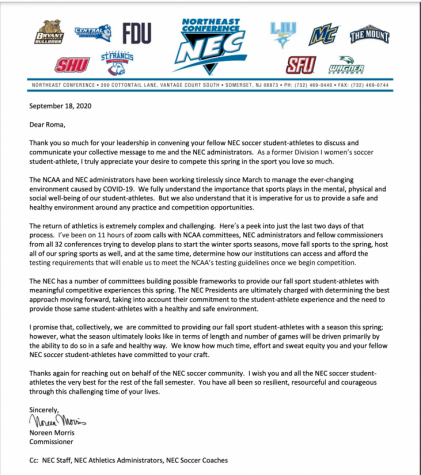 In a letter obtained by the Recorder, Morris said that the NEC has been "working tirelessly since March to manage the ever-changing environment caused by COVID-19." While acknowledging the role athletics plays in students' lives, Morris also said that a safe and healthy environments for these games to take place in are a top priority.
Morris said the NEC is committed to providing some sort of season in the spring, but what "the season ultimately looks like in terms of length and number of games will be driven primarily by the ability to do so in a safe and healthy way."
Morris' response was a positive for McLaughlin, who is happy to see the NEC trying to organize competitive games this spring. The official decision will most likely not come before the NEC's planned meeting on October 1.