Resident Students Face Unexpected Challenges Within Dorms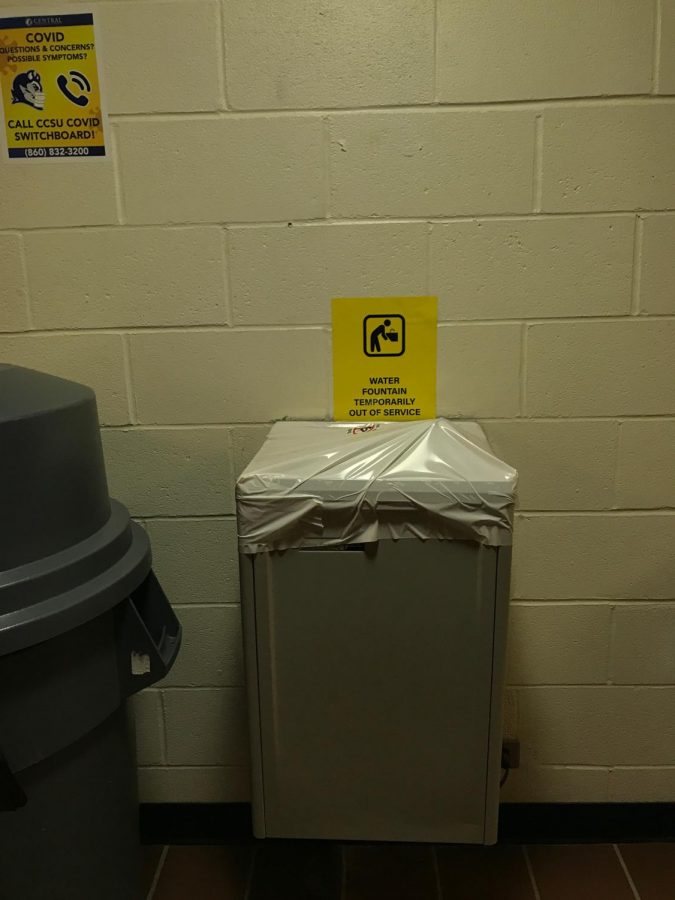 When asked about the access to drinking water, Sheridan resident Joe Yacovelli sarcastically responded "what about it? There is none!"
"Where do I start? There are no water fountains so I have nowhere to refill my water bottle but the sink in my dorm. Instead, I've been buying plastic water bottles," he added.
Yacovelli is a junior in the nursing program at Central Connecticut and is one of many students living on campus this semester; he, like others, have concerns that both water and food are lacking within the resident halls.
He shares being active is important to his mental and physical health, especially in years past when played rugby for the CCSU men's club team. Unsurprisingly, the team's fall season was cancelled. Even though his sports season was canceled, he says he is thankful that the athletic facility on campus, the C.J Wang Recreation Center, remains open for students to use.
Equally as important to staying active, Yacovelli says that drinking water and eating well are keys to his success as an athlete and student.
The threat of contracting COVID-19 was an eminent concern in the weeks prior to move-in. What residents could not have anticipated was the lack of water and nutritious food as the semester continued. Typically, water fountains on campus would be seen equipped with reusable bottle filling stations that are accessible on every floor of every building.
This fall, these water stations have been shut off and covered with plastic.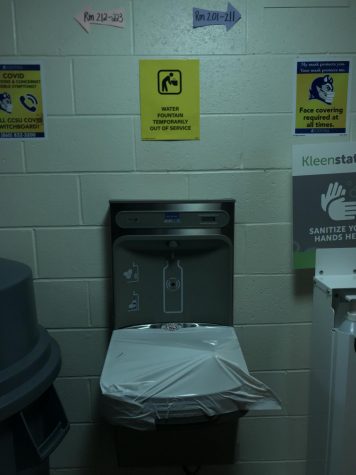 Because of this and his "busy college schedule," Yacovelli explained that it hard to find time to get to the store to buy water in bulk, especially as a disciplined athlete who needs to remain hydrated.
"I've been buying 24-packs of plastic water bottles and keeping it on the floor of my dorm room," he said. "It's not cold of course, they sit there at room temperature."
Sophomores Taylor Blackburn and Alicia Cochran have found themselves in the same predicament as Yacovelli.
Blackburn and Yacovelli have both been relying on packages of plastic water bottles. Cochran explains she has been exercising a more environmentally friendly way of staying hydrated by using a Brita filter.
"There are absolutely no water fountains on campus this semester. It sucks," Cochran said. "But a Brita filter and an ice cube tray are a great alternative."
For residents who want to avoid drinking the sink water, a filter could prevent them from relying on plastic water bottles. While the threat of COVID-19 has superseded the threat of climate change in recent months, it would be admirable if the school would address this issue by providing residents with filters.
Yacovelli admits the food has not been horrible, but it is not nearly as good as in the past. The vegan section in particular seems to have disappeared from the dining hall this fall.
"There are far less options" he added. "As someone with dietary restrictions, I really miss having more options."
Blackburn and Cochran agree that though neither is vegan, both miss having the healthy vegan option at the dining hall.
All the food is prepackaged in to-go containers and vegan options are marked clearly with a sticker. While in theory that is a great plan,, Cochran and Blackburn are concerned that those preparing their meals may not be aware of the implications that should accompany their vegan label. On multiple occasions, they have taken a "vegan" meal to go, only to find that their salad or sandwich contained chicken.
When asked how this makes her feel, Cochran admitted that going to the dining hall usually means picking the meat out of meals in order to find something worth eating.
"It would be nice if the dining hall had more options for people with dietary restrictions" Cochran stated.
While staying safe this semester means staying socially distant from others and wearing masks in public spaces, other aspects of students' wellbeing are being slighted. As the university adjusts to a new reality, residents hope that more thought will be put into planning nutritious options for resident students.