Central Students Outraged by Centrals Disregard to their Belongings
"I am very disappointed in how CCSU addressed everyone's concerns," Junior Emily Prizio, expressed about her experience with the move out process.
Many Central Connecticut students are just as outraged as Prizio at the way the university handled moving out the dorms following a student's potential exposure to an individual with the coronavirus during the spring 2020 semester.
When the campus abruptly closed on March 12, resident students were informed they had to be moved out of their dorms by 4 p.m. that day and due to the evolving urgency of the pandemic, they were given minimal details on when they'd be able to return to retrieve their belongings. 
Following the campus's evacuation, President Dr. Zulma R. Toro informed students in an email that a FEMA-certified, professional moving company, Siracusa Moving & Storage, had been hired to assist in packing up items in each dorm and temporarily storing belongings in a secured location.
Dr. Toro also included that GoPro cameras would be used by the movers to document the move out process in an effort to ensure that all items were safely packed up and secured in their correct bins.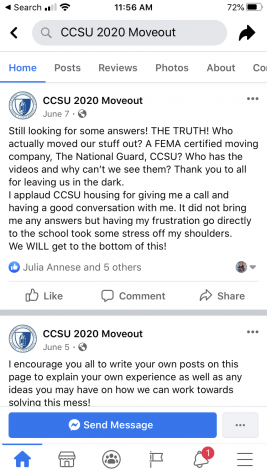 Despite these claims, when the time came for students to retrieve their belongings, it was evident to many students that such safety measures CCSU had promised, were not actually implemented.
CCSU senior Stephanie Liptack was returned a shattered mirror and was missing an entire dresser worth of clothing that she in turn had to replace with her own money.
"I feel as if Central did not care about mine and my peers' concerns with the move out process as they did not update us about our items for nearly three months," Liptack, a criminology student, stated. "None of the promises about how our items would be packed was followed, and even still Central has remained pretty silent about this issue."
Liptack added that in order to get answers she had to speak with multiple faculty and staff members about her missing items, as well as making many phone calls and filing a police statement, in addition to four missing items forms, to receive assistance.
Kaylee White, a junior at Central, was met with similar frustrations when she tried to address her issues with her items.
"I actually had to fight and email multiple times to even get someone to talk to me and when I did the only thing they said was 'I will pass along your concerns'".
When students asked for the video footage of their items being moved out of the dorm, their requests were met with cryptic responses.
Prizio received an email stating "we will look through the video if you discover a missing item" but along with many of her peers, she was never given access to the video footage even after providing proof of the missing items.
"The absolute frustration has become so overwhelming and has definitely taken a toll on my mental health," Prizio stated. She claims to have had to thrown away hundreds of dollars worth of items leaving, including some that she believed were '"irreplaceable" and "priceless." 
In addition to CCSU's safety measures, students were also told the National Guard would be assisting in returning students' belongings when it was deemed safe for them to return to campus and gather their items. But Sydney Lane, a former residence assistant in F. Don James Hall, described the process as "unorganized" and "disrespectful."
Though Lane arrived early to gather her items, it took her about an hour to retrieve them. When the time came, she realized her refrigerator was missing and, after providing a clear description of it, asked the staff to look for it. After 20 minutes had passed, the staff informed her they couldn't find her fridge.
"After about ten more minutes, a Siracusa contractor came and spoke with me and said 'this has been happening to a lot of people, we aren't sure what happened,' and that I needed to file a claim with the school," Lane said.
Despite filing a missing items form and Lane received no feedback. She later went on to write a detailed email to several university administrators, including Facilities Management, Student Affairs, Residence Life, the university deans and Dr. Toro. 
"I received a very dismissive email back from the president's office stating they did the best they could and basically too bad for us," Lane said.
CCSU has yet to release an official statement addressing these concerns and did not respond to requests for comment.