Battling a Pandemic and Preparing for an Election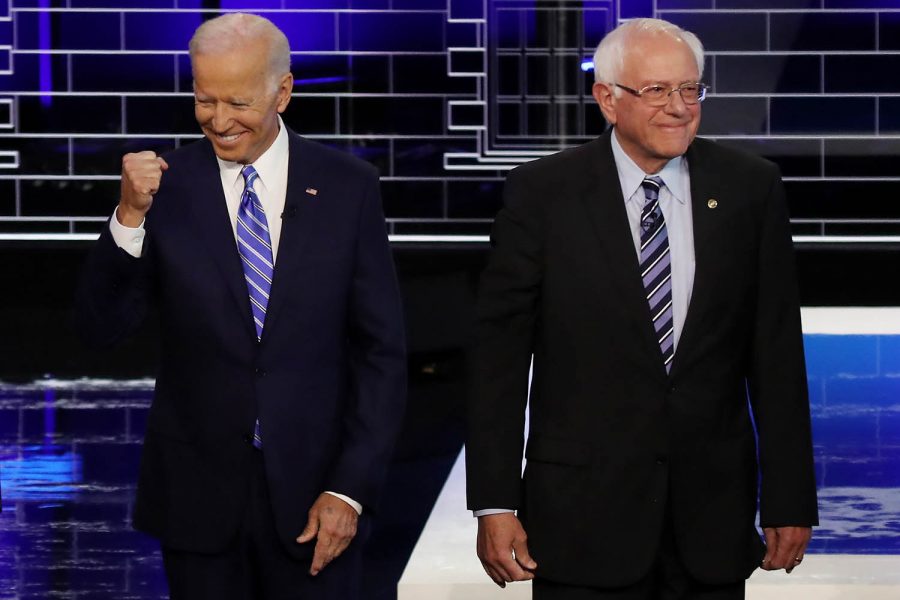 As the U.S. continues to battle the pandemic that has shocked the world, it has become more difficult to remember what is on the horizon: the 2020 presidential election. With 209 days remaining until Nov. 3, voters will have to balance their focus between COVID-19 and who they will vote for. 
The new uncharted territory for voters became especially clear on April 7, when they had to make the decision between their civic duty and their health, as the Wisconsin presidential primary was held despite widespread concern. Voters stood in line wearing masks and other forms of protective gear as they awaited their turn. 
It is also important to remember that this election year is not solely about who punches the ticket for the Democratic Party as the nominee. Congressional campaigns are preparing for a significant lack of fundraising as states across the nation declare stay-at-home orders. The House and Senate will once again fight for the majority this November. Realistically speaking, the freezing of fundraising will benefit the current controlling party. 
The fight for the Democratic Party nomination for president has come to a much anticipated end, with former Vice President Joe Biden being the likely nominee. Sen. Bernie Sanders ended his campaign as calls intensified for him to drop out. He called his path to victory "virtually impossible" in a video posted on his personal Twitter account. 
The 2020 presidential election is being transformed in front of our very eyes. The calendar has continued to shift with states, such as Delaware and Connecticut, pushing their April primaries to June. This means a total of 14 states will vote in the month of June. 
The Democratic National Convention was also postponed until August 17. This is bad news for Democrats, as their plan to hold the convention 42 days earlier than Republicans is now erased. The point of this plan was to spend the money raised for the general election and get a jump start on campaigning for their nominee. 
From the start, the debate was over who was more "electable." As Biden's campaign progressed, we began to see him adopt more progressive policies. He abandoned his views of solely maintaining Obamacare and jumped onto Sanders' Medicare for All option for the public.
We also saw nominees drop like flies. I remember in early March when I would repeatedly receive notifications telling me who had ended their campaign. The crazy part was how many of them flocked to Biden's side. From former South Bend, Indiana, Mayor Pete Buttigieg to Sen. Amy Klobuchar, it seemed like no one was on Sanders' side. 
I think we will begin to see Liberals pressure him to support Sanders' vision of a government run healthcare system, pushing him further to the left. If this happens, Biden can wave goodbye to swing voters. 
For Sanders, there is no doubt that the current pandemic put a major dent in his overall game plan. Without his rallies and interviews, it became significantly more difficult for him to defend his decision to stay in the race. However, he continued to use his platform to fight for what his campaign had promised from the start.
Interest will wane once he leaves the race and he was aware of this. 
Despite Sanders' clear path to defeat, I give the man credit. He continued to voice his opinions loud and clear and was quite active online — he refused to be shut out. However, let's be honest here, Sanders had no chance from the beginning. His vision for getting rid of private insurance was completely impractical. 
I firmly believe that the pitch of this year's election for the Democratic Party will be, "What would we have done differently?"
This is a dangerous game to play for the nominee and disclaimer: do not blame President Donald Trump for the lack of N-95 masks. After the H1N1 swine flu pandemic in 2009, the Obama Administration failed to replenish the national stockpile, despite advisories, according to reports by Bloomberg News and L.A. Times. 
This is just one item of a very long list of failures, but they are not exclusive to just one past administration. The government is not perfect by any means, but the next administration has a heavy responsibility to ensure that these stockpiles are maintained. 
As the nation continues to brace for what's next, voters will have to share their focus  between how Mr. Trump leads and how the Democratic nominee acts behind-the-scenes.