Spring Break Goers Underestimate Coronavirus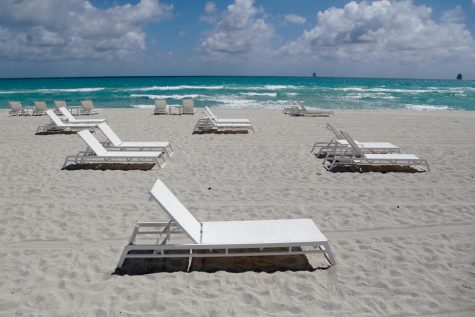 The coronavirus has canceled many things thus far for college students, such as living in dorms, campus activities and in-person classes. Despite all these decisions, some college students decided their spring break down in Florida still must go on.
"Being a senior, I wanted to enjoy my last spring break," Central senior, Joseph Syryla, said. "I went to Hollywood, Florida and Fort Lauderdale and my friends and I did go to the beaches."
Last week, Florida Governor Ron Desantis did not order all of the state's beaches to close. Instead, he said groups were limited to 10 people and they would need to stay 6-feet apart to practice social distancing due to COVID-19.
In a press conference last Tuesday, March 17, Desantis explained "it's not uniform throughout the state that you're seeing massive crowds at beaches." However, popular spring break destinations in the state, including Miami Beach and Fort Lauderdale, have issued orders to close down their beaches.
"The atmosphere on the beaches seemed normal. People were more concerned about keeping crowds to a minimum in order to keep the remaining beaches from being shut down.  Some people seemed more concerned about keeping the beaches open than the virus," Syryla added.
Syryla also claimed that the beach he was on was not crowded and had more elderly people on it than vacationers.
With some Florida beaches still open during spring break, college students were able to go despite health concerns and safety regarding COVID-19. But these spring break goers still kept the virus in the back of their minds while vacationing.
"It was a concern," Syryla said. "We took precautions and we were as safe as we could be. Our own safety and others were always considered with whatever we did."
CCSU sophomore, Brianna Wambolt, also traveled to Fort Lauderdale with her friends.
"[I] didn't see it as that serious at first since the weeks leading up to going, there were no closings yet other than some schools were delayed until April," Wambolt said. "They closed the main beaches the day I got there, so when we went it was more chill and quiet and I stayed with the same group of people most of the time."
With things escalating quickly, keeping others safe was also a goal for those who traveled.
"We left around the 13th or 14th," Gina Bonanno, a senior at Central Connecticut, said. "When we were first leaving to go to Florida [COVID-19] wasn't as big as it is now and when we were down there things got a lot more serious, so we came back to CT earlier."
"We are all self-quarantining now and not seeing our family or anything just in case," Bonanno continued.
Syryla and Wambolt also stated in interviews that they are practicing self isolation.
Not every beach hosted large crowds when Syryla, Bonanno and Wambolt went, however, videos from CBS News shows a different side, highlighting large crowds of people on the sand and in the water from Fort Lauderdale, Miami and Clearwater.
These beaches have since closed.
Numerous of beaches have closed throughout the state. For more information on Florida beach closings visit:  https://weartv.com/news/local/list-beaches-closed-throughout-florida-due-to-coronavirus-pandemic