The Greater Good Of Sports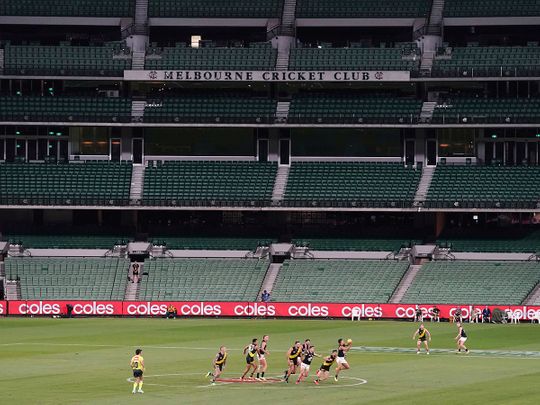 With seemingly every sport around the world postponed due to the coronavirus, sports fans have been craving any sport that they can get on their TV. Some sports fans have no idea what to do with themselves.
In both England and America some sports fans were introduced to Australian Rules Football better known as "Aussie Rules".
With no live sports on in America, Fox Sports put on Aussie Rules whose season was still happening despite Covid-19 concerns. This caught the attention of Pat McAfee former NFL punter and current host of "The Pat McAfee Show". He took to Twitter to express his newfound love of the game which started a frenzy in Australia with teams tweeting back to try and get him to be a fan of their team. If it wasn't for Covid-19 then McAfee would not have discovered the game.
Unlike most sports, the governing body for the AFL decided to start the season but due to Covid-19, no fans were allowed in the stadium. This was a gamble by the league as it would force some clubs into financial difficulties as they would be getting no income from game day sales. But for some Australians, they were just happy that their game would be on their TV.
For Australians and Americans like McAfee who had fallen in love with the game, the AFL CEO Gillon McLachlan made the decision to postpone the season after the completion of round 1.
With the Australian A-League's announcement, all World Leagues Forum's professional football leagues have now postponed their matches. These are bizarre times, sports journalists are finding themselves writing about coronavirus and how it is affecting sports. If you told people this time last year that we would be living in a world without sports then no one would have believed you. These truly are testing times for sports fans.
Normally when there is a national crisis, sports are for a way for people to escape from their everyday lives. When the events of 9/11 happened, Americans were united behind their love of football and sports in general. Teams held the American flag proud and showed that they were bigger than those that committed the horrific act. But with the majority of the world going into isolation, sports fans are watching reruns of huge games as a way to fill the void that sports have left.
In America, for the first time in its history, the March Madness tournament was cancelled. No one could have believed in February that one of the biggest tournaments in the world would be cancelled due to the virus.  This virus has shut down the sports world as we have never seen before.
Sports teams around the world are wondering how these next few months are going to play out and how it will affect their teams in the long run. In the AFL, players have taken a 50% pay cut which could rise to 80% as a way to support the league. As with no games happening the league has no form of income so there could be a chance the league would have to fold.
In England, teams at the league level are asking fans to buy virtual tickets to the games that should be happening as a way to give them some form of income.
These are uncertain times and with the power of the internet you can watch any game on YouTube so might I recommend watching Carlisle vs Plymouth from the 1998-99 season. If you wait till to the end of the game you'll be able to witness probably the greatest goal of all time.