BTS Returns With 'Map Of The Soul: 7'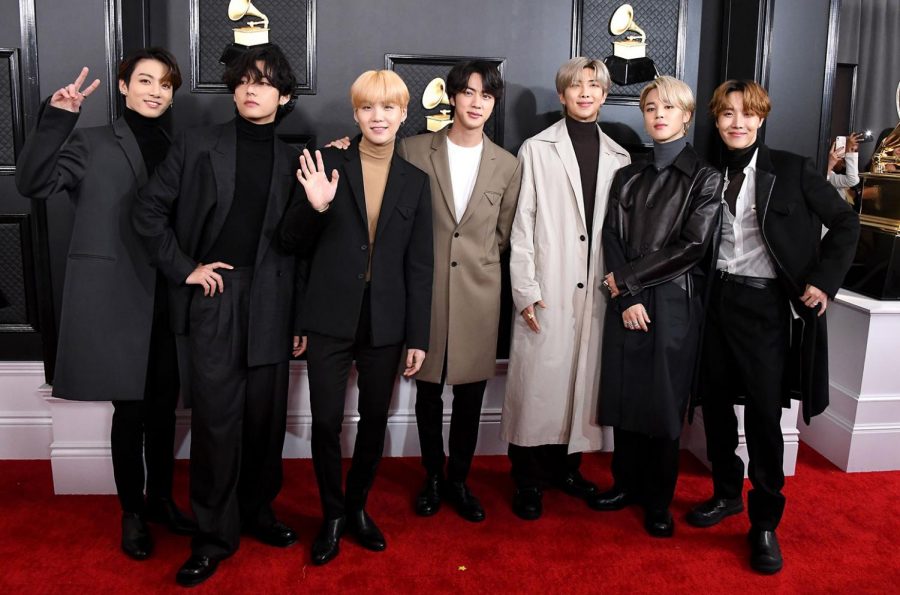 When the seven-member group from Seoul, South Korea first debuted in 2013 with their album "2 Cool 4 Skool," there were many doubts that BTS would succeed on all fronts. Now the group has taken over worldwide and doesn't seem to be slowing down.
Since their start, the group has had five concert tours, three of which being worldwide, while also becoming the first K-pop act to perform at the Grammys and are the first Korean act to remain on Billboard 200 for a whole year. BTS was also invited to become members of the Recording Academy and hold several Guinness World Records.
On February 21, BTS returned to the music world with their album "Map of The Soul: 7," after their release of "Map of The Soul: Persona" which was released almost a year prior. The newest album contains 20 songs, some of which have been previously released as singles throughout the year. 
Classic pop single "Boy With Luv" from "Map of the Soul: Persona" features an American artist Halsey and was released last spring. Lyrics such as, "I am curious about you, how's your day?" and "I waited all my life" match the upbeat pop melody smoothly and shows how interested the boys are in the little things about the girl they like. They also feature other collaborations on their album with the song "Make It Right," which was written with Ed Sheeran.
Aside from their pop singles about love, BTS also sings about their personal lives and self-acceptance, a theme that has been dominant throughout their careers, especially with their era of "Love Yourself" and other side projects."Black Swan" is one of these songs.
It is a darker song which leans towards emo hip hop, and is essentially them confessing their fear of losing their interest in music because of the pressures of the music industry. They also urge their fans in this song to release similar fears of being different than what the world expects them to be. Being a black swan, in this case, is not a bad thing but should be seen as an opportunity to do what you're most passionate about. 
The song "On" is for those searching for a song that makes them more self-aware. In this piece, the group makes it clear that you should accept yourself for who you are, no matter what other people might think of you. This song parallels the song "Idol" from the "Love Yourself: Answer" album. 
Most notably, their song "UGH!" is a fire-filled rap song that expresses the frustration for the lies that have spread and been accepted as truth. It is a call-out track similar to their "Cypher" tracks that have gained notoriety for the sub-unit called the Rap Line consisting of Suga, RM,and J-hope.
Overall, BTS has established their dominance in the music world and have positively influenced their fans in accepting themselves for who they are. Their success is simply another step towards achieving greatness and creates precedence in the music industry.