Softball Wins Season Opener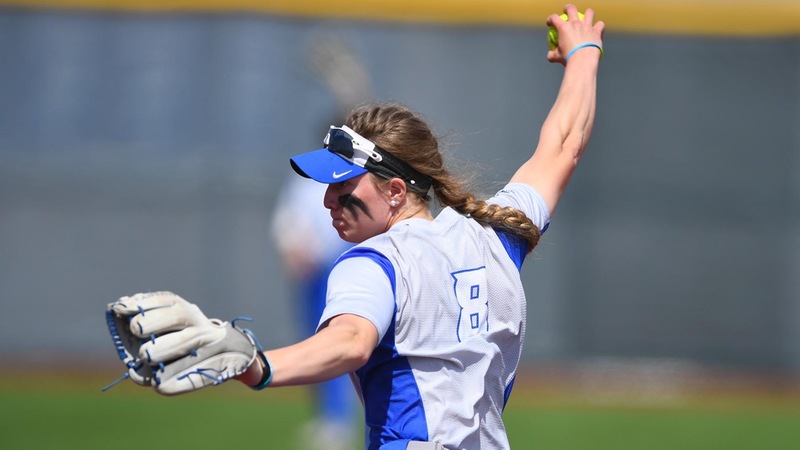 Central Connecticut softball opened up its 2020 season with a 4-1 victory over Rider University at the Tennessee State Tiger Classic tournament.
The Blue Devils competed in the tournament in Nashville, Tennessee through three days, Friday, Feb. 21 through Sunday, Feb. 23, facing four different opponents. Following their first victory, Central lost three straight contests against Bowling Green University, Tennessee State University and Creighton University.
CCSU was scheduled to play Bowling Green twice but their first meeting was postponed due to weather, and will likely be canceled.
Against Rider, Central scored all of its four runs in the second inning.
Junior right fielder Meg Dugas opened the scoring with a single, followed by a two-run double by senior shortstop Sarah Ogilvie. center fielder Giuliana Hathaway singled and drove in the fourth and final scorer for the Blue Devils, making it 4-0.
Rian Eigenmann (1 for 3) and Kaitlin Paterson (2 for 4) also registered hits for Central. CCSU had seven hits as a team.
Sophomore pitcher Kari Marks received the victory over Rider. She allowed only six hits and one run in 7.0 innings of work. She struck out eight in the process.
On Saturday, the Blue Devils faced the Blowing Green Falcons and the Tennessee St. Tigers, losing both matchups 4-3 and 7-1 respectively.
The Falcons matchup needed extra innings to decide a victor.
Junior Meg Dugas took the loss on Saturday after allowing three earned runs in 7.1 innings pitched. Dugas also had a hit at the plate and finished 1-of-4, with a double.
In the third inning, the Falcons lead was 3-1 but Central would regroup and tie the game in the fifth inning.
Freshman right fielder Meg Gorman hit a double to score senior Hathaway to make it 3-2. Eigenmann followed with a double of her own to drive in her second run of the day and tie the game at 3-3.
Eigenmann finished 2-of-4 at the plate with two runs batted in. Dugas registered another hit and Gorman had the fourth and final hit for the Blue Devils.
Central was unable to execute in the eighth inning after having someone in scoring position with two outs while the Falcons scored the game-winning run in that same inning.
To close out the night, Central lost to Tennessee State 7-1.
Dugas scored the only run for CCSU in the fifth. She finished 1-of-4 at the plate.
Paterson and senior Alicia Bertolino each went 2-of-3 at-bat.
Marks took the loss after allowing four runs in 1.2 innings pitched. Junior pitcher Ashley Antonazzo saw her first action of the series and allowed two runs in 4.1 innings pitched. Antonazzo had six strikeouts.
CCSU closed out the road trip with a matchup against the Creighton University Bluejays, losing 6-2.
Paterson went a perfect 3-of-3 at the plate for the Blue Devils, driving in their lone two runs of the game in the shape of Eigenmann and Dugas.
Eigenmann (1-of-4), Dugas (2-of-4) and Gorman (1-of-3) all got hits at the plate.
Carley Stoker pitched 4.0 innings and received the loss. She allowed three runs. Marks pitched 2.0 innings, also allowing three runs. Antonazzo pitched 1.0 innings, allowing one hit but no runs.
Central's softball team will get nearly two and a half weeks off before taking the field again against Manhattan College on March 11, for their home opener.
The Blue Devils are scheduled for a doubleheader against the Jaspers, game one is scheduled for 1:00 p.m. while game two for 3:00 p.m.
CCSU lost both games against Manhattan last season, 6-5 and 3-2 respectively.